OK. Take a breath, everyone. I know that excitement over the Supreme Court's same-sex marriage ruling is going to make it difficult to focus on anything else today/this weekend, but we really have to start considering the implications of this news. It's wonderful that marriage equality is now a real thing in the United States, it's wonderful that the efforts of those who have fought for generations have led us to this day, and it's wonderful that any two adults in this country who want to get married can get married whether your shitty uncle likes it or not.
But let's move on to something equally important: now that same-sex marriage is legal, we're gonna need some more inclusive romantic comedies. I'm not talking the kinds of straight-to-video releases the LGBTQ community has seen for decades—I'm talking big-budget, Nancy Meyers-directed, Scott Rudin-produced, A-list romcoms that get released on Valentine's Day and make $150M. Sure, I understand that romcoms are hardly the moneymakers they were in the '80s and '90s, but maybe they just needed to get with the times! Maybe gay marriage will give them a renaissance. And maybe I can help come up with some ideas.
---
My Best Friend's Wedding
Writer: Ronald Bass
Director: P.J. Hogan
Starring: Julia Roberts, Dermot Mulroney, Cameron Diaz, Rupert Everett
No no, not a remake. Not even a reboot. I want a reimagining. (Are all three of those things the same? Who cares.) The same writer, the same director, the same cast, and the same basic plot, with one little difference: it ends with Cameron Diaz and Julia Roberts falling in love and getting married. Just picture it: Julia, an out bisexual woman, flies into town with the hopes of sabotaging a wedding so that she can marry Dermot, the love of her life, herself. But, uh oh! She falls in love with his fiancee... and by the time the credits roll, she reciprocates. My Best Friend's Wedding played with its audience's expectations, and its ~reimagining~ could do the same.
---
Maids of Honor
Writer: Nancy Meyers
Director: Nancy Meyers
Starring: Morgan Freeman, Jack Nicholson, Diane Keaton, Alfre Woodard
This is a typical Nancy Meyers romcom about fabulously wealthy people and their fabulously wealthy people problems. Morgan Freeman and Jack Nicholson are having a big Hamptons wedding in one week, and it's time for both families to meet. Everyone gets along... but their sisters, who are played by Diane Keaton and Alfre Woodard. After being told they'll both be Maid of Honor, the two begin seven days of furious competition, attempting to outdo one another in planning and executing all the pre-wedding parties and events. Ina Garten has a cameo.
G/O Media may get a commission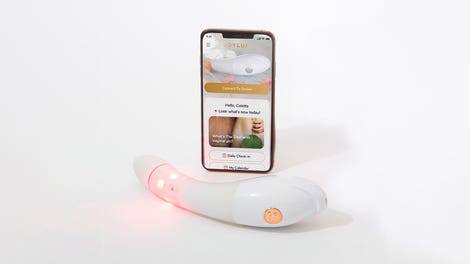 $50 Off
Joylux vFit Gold Device
---
The Night Out
Writer: Judd Apatow
Director: Judd Apatow
Starring: Matt Bomer, Zachary Quinto, Ellen Page, Michelle Rodriguez
This raunchy romcom takes place over the course of one night in New York City, and follows four friends (and former lovers) who decide to have one final big night out before one of them (Ellen Page) moves to LA. Their night goes from quiet dinner at a trendy restaurant, to debaucherous evening where secrets are revealed, romances are rekindled, and Broadway shows are interrupted. There will be plenty of cameos, plenty of nudity, and plenty of sweet moments typical of any Judd Apatow romp.
---
Robin and Riley and Riley and Kevin
Writer: Gina Prince-Bythewood
Director: Gina Prince-Bythewood
Starring: Gugu Mbatha-Raw, Jussie Smollet, Ezra Miller
After Riley (Jussie Smollett) comes out as bisexual to his girlfriend Robin (Gugu Mbatha-Raw), they decide the relationship can still work. But Robin starts having second thoughts when Riley's new best friend Kevin (Ezra Miller) joins the picture and becomes an insufferable third wheel. Robin begins to suspect the two of them are having an affair, and begins spying on them with the help of her best friend Laurie (Amber Heard). Is Riley cheating or is Robin just crazy? All will be revealed in this hilarious romp set during a particularly hot Chicago summer.
---
Well Isn't This Weird
Writer: Woody Allen
Director: Woody Allen
Starring: Emma Stone, Scarlett Johansson, Woody Allen
Lol JK.
---
What's Her Name
Writer: Leslye Headland
Director: Leslye Headland
Starring: Ilana Glazer, Kate McKinnon
After meeting at Alcoholics Anonymous, Jane (Ilana) and Jane (Kate McKinnon) hit it off. But because they're both too focused on dealing with their newfound sobriety (and at the suggestion of their sponsors), they decide to remain casual friends and share as little personal information with each other as possible—not even their real names. Over the course of a year, they see each other through the stumbles and successes of completing the 12 steps—and, by the time the credits roll, they might even find themselves ready for #13.

---
Contact the author at bobby@jezebel.com.

Image via screengrab.