New York Fashion Week is getting notoriously boring and corpo, so it's already starting at a loss, but now all these poor, beleaguered designers dropping $100k on staging runway shows have another thing to contend with: they have to live up to the promise of the first major show on the schedule. No, not talking about Yeezy Season: talking about Wednesday evening's brilliant showing from Australian pop art designers Discount Universe.
They've been pop star faves for awhile—their technicolor sequin creations have shown up on Miley, Meghan Trainor, Charli XCX and more—but they've never had a presence on the big runway. They were included in V-Files' show, though, in which the brand uses its considerable muscle in the fashion world to showcase up and coming, innovative lines by often international designers, and inevitably it's the most interesting thing at New York Fashion Week, staid and stale as it tends to be. By showing on the first day, they set the tone for the rest of this whole rigmarole, and brought to the runway the ingredient that fashion often forgets is an important element: some fucking fun, for once.
Also, this poodle.
Discount Universe, designed by Nadia Napreychikov and Cami James since 2009, is exactly the kind of clothing a pop star would want to wear, and dream clothes for irregular women who floss their lipsyncing in the bathroom mirror. It's not serious at all, and it's influenced by the Tumblr/Giphy worlds but not so much that their clothes can't exist outside of the internet. It's a cotton candy fantasy of club gear.
G/O Media may get a commission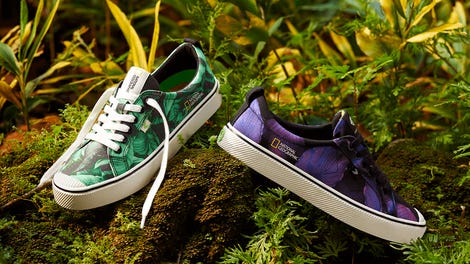 New New New
Cariuma + National Geographic
The theme is Dreams and Screams (presumably as in "it'll be a"), interpreted literally with clouds and stars, and not as literally with off-kilter, surrealist dresses of varying lengths. How much does that woman in the middle look like Lady Miss Kier 2015, ready to bust loose on a GFOTY remix? One of the best things about these clothes (frocks?) is that unlike pop stardoms, sequins literally have no shelf life.
Even with all the careful embellishments there's still a DIY thread running through all their clothes—that mod dress in candy cane rosé looks like it could have been done with puffy paint from afar, an after-school art project as spring melts into summer. Consequently everything is youthful as hell, but also, you don't need to be young to wear them—just adventurous and confident and willing to wear hues that don't occur in nature. (Basically the opposite of Kanye's droll stab at earthy '80s aerobics gear which, by the way, here is Tim Blanks trying to be measured with his vitriol; almost succeeding.) These are clothes made by women who like to have a good time, for women who like to have a good time. Sometimes fashion doesn't need to be anything more.
Lobster pinching nipples. Schiaparelli says whatup.
New York Fashion Week will continue for the next longest seven days of your life.
Images via Getty.
You're at The Muse, Jezebel's spot for pop culture.