On Friday, the U.S. Army Corps of Engineers gave the protesters camping near construction for the Dakota Access Pipeline until December 5 to leave the area. On Monday, Governor Jack Dalrymple doubled down with his own order.
The Sunday before Thanksgiving, protesters and police clashed, with injuries reported from the authorities' use of tear gas, rubber bullets and water cannons in freezing temperatures. The New York Times reported that 300 people were treated for injuries following the confrontation. Despite this damage, Reuters reports that the U.S. Army Corps is still saying no force will be used to eject protesters, asking for a "peaceful and orderly transition to a safer location."
Governor Dalrymple has now issued an emergency evacuation order, citing weather conditions as the camp was hit by snow, but there is no indication that he has safety in mind:
The governor did not specify how he intended to enforce his order other than by directing state and local agencies to refuse emergency assistance and other services to anyone who remained at the site. He said the order was effective immediately and would stay in force "until rescinded."
Standing Rock Chairman Dave Archambault II spoke to the evacuation order late on Monday, calling it a "menacing action meant to cause fear," and accusing Governor Dalrymple of attempting to circumvent federal authority. He also suggested that the governor couldn't care much about protesters' exposure to cold when police had subjected them to water cannons just a week before.
According to the National Weather Service, the area will be expecting snow through Wednesday. The Daily Intelligencer found a post from organizer Dallas Goldtooth, shared early Monday morning, that shows the campsite bathed in snow. He states there will be no raid or sweep of the site, and shares his plans to go sledding:
G/O Media may get a commission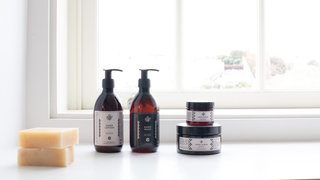 Exfoliate and Hydrate
The Handmade Soap Company
Update 2:03 PM:
Reuters reports that North Dakota law enforcement will now be blocking all supplies, including food, to the camp.
Cecily Fong, a spokeswoman for the North Dakota Department of Emergency Services, has stated that no vehicles have been turned back yet. Officials are particularly on the lookout for building materials, as the area is not zoned for permanent structures, and propane, which, according to Fong, has been used in attacks against law enforcement.