North Carolina is attempting to release "Choose Life" license plates because when women spot the message on another car they'll be forced to look deep within their souls and reconsider their moral beliefs (on whether or not it's okay to key someone's car). The ACLU of North Carolina is suing because six attempts to issue an accompanying "Respect Choice" or "Trust Women. Respect Choice" plate have been denied. Today, a federal judge sided with the ACLU, issuing a preliminary injunction to keep the DMV from releasing the plates.
The issue in the case is whether license plates constitute private speech or government speech. The ACLU is arguing the former point, saying that making only the anti-choice plates available violates citizens' First Amendment rights. If the plates are government speech, then the state's legislature can put forth only the message it chooses. Star News Online reports that U.S. District Judge James Fox found that since drivers are the ones buying the plates (with a majority of the proceeds going to an anti-abortion group), they count as private speech. His injunction prevents the state from making the plates available until another federal court makes a final judgement.
Judge Fox tripped up the DMV's lawyer, Neil Dalton, with some logic, the foe of conservative nutjobs across the land. Dalton argued that North Carolina's government should be allowed to express its stance and, "It's difficult to imagine a legislature trying to speak on a political issue more than in this case." However, when Judge Fox asked Dalton what the limits on government speech should be, such as whether the state should be able to issue license plates supporting a political candiate, he didn't have good answer. Dalton thinks support for political candidates should be limited to bumper stickers, not license plates, but he couldn't explain exactly where the line should be drawn.
Katy Parker, ALCU of North Carolina's legal director, responded to the decision:
"This case is ultimately about free speech and equal treatment for all North Carolinians, regardless of their point of view on abortion. The state should not be allowed to use its authority to promote one side of a debate while denying the same opportunity to the other side."
G/O Media may get a commission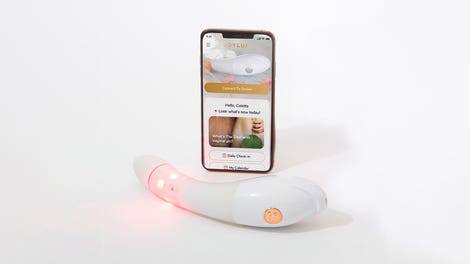 $50 Off
Joylux vFit Gold Device
Hopefully the issue will be settled soon, because until then North Carolinians who make all of their personal medical decisions based on stuff they read on passing cars will be terribly lost.
Judge Halts Anti-Abortion Plates For Now [Star News Online]
Federal Judge Temporarily Blocks 'Choose Life' License Plate [Charlotte Observer]
Earlier: North Carolina Sued Over 'Choose Life' License Plates