Pat McCrory, whose legacy as governor of North Carolina has been defined by his signing and subsequent defense of his state's discriminatory, so-called "bathroom bill" HB2, is running for reelection. In a new campaign video (above), he references the backlash against HB2 with counterfeit incredulity, while painting "boys" in "girls' locker rooms and showers" as predators.
The full text of McCrory's ad is:
You know, when we were raising the average teacher pay, creating new jobs and cutting taxes, other folks were actually pushing to make our schools allow boys, to use the girls' locker rooms and showers. Are we really talking about this? Does the desire to be politically correct outweigh our children's privacy and safety? Not on my watch. Our kids and teachers are my priority. This is North Carolina. Let's do what's right.
For those who haven't been keeping up, HB2 requires people to use bathrooms that correspond with their sex on their birth certificates in public schools and offices. It also eliminated LGBTQ anti-discrimination protections. HB2 was denounced by Attorney General Loretta Lynch, it's the subject of multiple lawsuits (the Department of Justice sued McCrory, the North Carolina Department of Public Safety, and the University of North Carolina system over the law, and then McCrory sued back), and it cost the state over $329.9 million in lost business, according to an HRC report published in July.

McCrory has long defended HB2 as a means to keep predatory men in dresses out of women's rooms. That's a hypothetical problem that HB2 solves, compared to the very real problems it causes for trans people. This isn't about boys in girls' rooms, it's about trans kids getting to use bathrooms that correspond to their gender identities. It's about being respectful, not "politically correct." (That "politically correct" comment is particularly telling in its pointing to the trans people affected by HB2—if this were merely about letting cisgender boys pee wherever the fuck, a term generally reserved for calling bullshit on extending traditionally disenfranchised people rights and respect such as "politically correct" wouldn't even enter the conversation.)
G/O Media may get a commission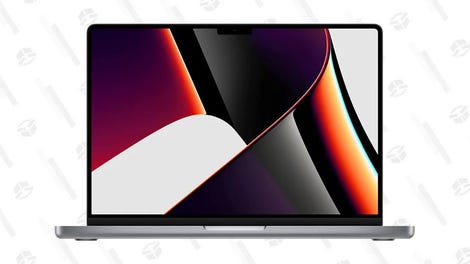 Save $300
2021 14" 1TB MacBook Pro
Regarding how it affects his state's trans citizens, McCrory told Megyn Kelly in April:
For those people who have these unique gender identification issues, which I emphasize with, we ought to allow the schools to make special arrangements for those people.
McCrory is trailing in the polls in the gubernatorial election to North Carolina Attorney General Roy Cooper. Imagine!
[h/t NCRM]