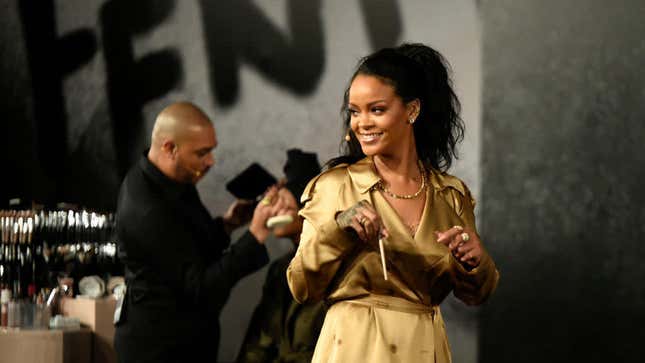 Rihanna, who has established that she is quite ready to drain your bank account with her groundbreaking new fashion line, sat down with playwright Jeremy O. Harris for a great T Magazine Q&A about the new Fenty line, what the hell is up with her new album, and whether she'll work with Drake again anytime soon (nope, not happening any time soon, thank god.)
This new luxury Fenty-era Rihanna is decidedly more chilled out. Rihanna, designer and businesswoman, says she really doesn't party like she used to:
There has been quite an evolution in that party. In the beginning, it was just my culture, my life. And now, the party, believe it or not, is at work. I do not go out. I will go to a dinner. I try to have as much fun as I can during work. And even after work, when I'm literally in my kitchen having a drink, I invite all my staff. And we work, still.
The work, work, work, of "Work" is to be taken literally, please.
But Rihanna also talked frankly about not always having the freedom she has now to pursue her creativity as she wants to. It took her awhile, early on in her music career, to actually take control of her image and sound. She says:
...even within being Rihanna, that freedom didn't exist for a while. "Good Girl Gone Bad" is where I started to take the reins: "I'm going to do whatever I want to do, I'm taking control of my vision, my sound, my clothes." I also embraced change along the way — things that make me a better woman, a better human being. Like, even the way I communicate: I'm really proud of my growth on that. I'm proud to walk into any building as this person. Nothing about me makes me embarrassed about me.
So you just take these people's advice, and you realize, This is not who I am. It was the pressure of feeling safe in a box. I never liked that feeling, and so I grew out of that box when I couldn't take it anymore, and I just went for it.
G/O Media may get a commission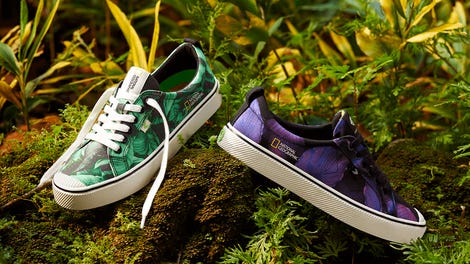 New New New
Cariuma + National Geographic
When she took the LVMH opportunity, the fact that Rihanna would be the first black woman at the top of a house there hadn't occurred to her. But being Rihanna, she says, does not always exclude her from being treated as an outsider in the hyper-white, historically racist spaces that permeate the high fashion industry:
You're going to be black wherever you go. And I don't know if it's unfortunate or fortunate, because I love being black. So, sorry for those who don't like it — that's the first thing you see before you even hear my voice. There are also other factors: I'm young. I'm new to the family. I'm a woman. Those factors do come into play, but I will not apologize for them, and I will not back down from being a woman, from being black, from having an opinion. I'm running a company and that's exactly what I came here to do. I don't know if it makes people uncomfortable or not, but that's not even my business, you know? I do know that the reason I'm here is not because I'm black. It's because of what I have to offer. That's what they're invested in. And the fact that I'm black is just that: a fact.
And while Rihanna is clearly busy (she says she gets two hours of sleep a night right now) with her fashion line, the question of what's happening with her album (which she confirms will be a reggae album) still stands. From the sounds of it, its future is a big question mark right now:
JH: What is the album called?

RF: Uh, I don't know yet.

JH: If you don't know yet, then you probably don't know when it's coming out?

RF: I don't.
Sorry, Navy!