Holy shit. Holy shit. Holy shit. Police in Pontiac, Michigan have discovered the body of a woman in the garage of her home where experts say she's been lying dead for at least four years. All of her organs have decomposed, but her skin remains intact, essentially leaving her mummified. Those were the gruesome bits and now onto the really sad part: No one realized the woman had passed because she had little-to-no family and all of her bills were set to auto-pay.
From The Chicago Tribune:
Her bills were automatically deducted from her bank account, and residents of the quiet middle-class Pontiac, Mich. neighborhood said they noticed nothing amiss.

Nobody saw her, but the grass was cut and the mail didn't pile up. Some neighbors said they thought she had moved out of the country after the recession hit several years ago.

Eventually, the money in her bank account ran out and the house went into foreclosure, leading to the gruesome discovery this week.
The woman, whose name police have yet to release, was reportedly in her 40s, from Germany, worked for one of the major auto manufacturers and maybe had a son. All details on her life are extremely vague.
It gets weirder still:
[Oakland County deputy medical examiner Dr. Bernardino Pacris] said the body was on the backseat [of the woman's Jeep] and clothed in a heavy jacket and jeans, leading him to believe the woman may have died when the weather was cold. The key was in the ignition, but in the off position, Pacris said.
G/O Media may get a commission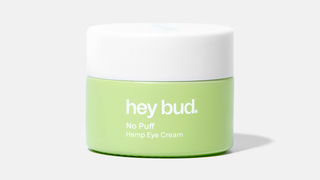 15% off
Hey Bud - No Puff Hemp Eye Cream
Pacris also reported that the woman showed no signs of external trauma and that he'd know more following an autopsy.
Of the woman, one neighbor told ABC's 7 Action News, "She didn't talk to anyone. I'm sure she was a nice lady, but she just really kept to herself. We never really heard anything from her."
With so few details, the incident is steeped in mystery. How did her grass get cut? Who collected her mail? How did she end up in the back seat and why did her work never come looking for her?
Only two things are for certain: 1. This situation is a fucking nightmare. 2. Never in my life have I been more grateful for having so slim a bank account that — even with auto-pay — bill collectors would come looking for me almost immediately after I went missing. (See, mom? This is why I live so hand-to-mouth.)
Image via Shutterstock.