When the trailer for Nina was released March 1, everyone remembered how mad they were at Zoe Saldana for being cast in the titular role, though it's been raising eyebrows since 2012. Well, Nina Simone's daughter says direct your anger elsewhere.
In an interview with Time, Lisa Simone Kelly said she had no idea that the Nina Simone estate had directed a tweet shit storm at Saldana. She wasn't even entirely sure who runs the account, but the family hired a friend named Aaron Overfield to manage the official website and Facebook page years ago. While Simone Kelly definitely isn't happy with how the movie looks, she thinks people should give Saldana a break:
"It's unfortunate that Zoe Saldana is being attacked so viciously when she is someone who is part of a larger picture," said Simone Kelly, 53, who is also an actress and singer. "It's clear she brought her best to this project, but unfortunately she's being attacked when she's not responsible for any of the writing or the lies."

Watching the trailer didn't stir much emotion for Simone Kelly, who has been vocal against its production since 2006. "I really didn't feel much of anything except for poor Zoe," she said...

While the family is "not upset with Zoe," Simone Kelly said she didn't think the actress was the "proper choice, appearance-wise." "There are many superb actresses of color who could more adequately represent my mother and could bring her to the screen with the proper script, the proper team and a sense of wanting to bring the truth of my mother's journey to the masses," she said. "And Nina, in my opinion, doesn't do any of that."
Lisa Simone Kelly sounds remarkably well adjusted in all this. Though she is firm about the movie being full of lies, she also says she no longer feels the need to prove anything to anybody, "I'm no longer bothered by it because the truth is already out there... I don't have to justify, define or educate anybody about my mother anymore. It's a wonderful feeling. I'm free in a way that I have never been before." [TIME]
---
G/O Media may get a commission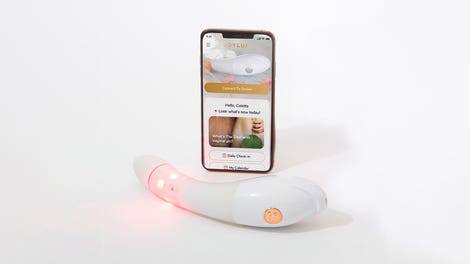 $50 Off
Joylux vFit Gold Device
The Simpsons co-creator Sam Simon passed away almost a year ago, and folks are still wrestling over his enormous pile of money. Simon's girlfriend, Kate Porter, who nursed him through his death from colon cancer at age 53, says he had promised her 5 million dollars tax free. Except it doesn't appear to be in his will.
"Those entrusted with overseeing the Estate of Samuel Simon, and carrying out his last wishes, are in fact betraying that trust and refusing to honor the commitments made before he passed away," Porter's attorney Bryan J. Freedman writes in the complaint filed Thursday.

The lawsuit claims that Porter cherished the privilege of being by Simon's side during his battle with cancer so much so that she cut back her work to devote more of her time to him and was eventually "discharged" from her job.

"Mr. Simon asked Plaintiff to be more available to him, and told her not to worry about replacing her regular employment, as he would financially take care of her," Freedman writes.

Despite his "repeated promises," Simon's estate plan made no mention of Porter.
Porter is the second person to sue Simon's estate. Earlier this year, the man who inherited Simon's rescue dog says he was promised money to care for the pooch, who has expensive medical needs. This story is sad, give everyone money please. [The Hollywood Reporter]
---
Amy Schumer celebrated 4 years of Inside Amy Schumer by sharing a video she made on her very first day of shooting. It's not that illuminating, but it is cute:
Note to self: film landmark moments in better lighting.
---
Images via Getty.
---
Contact the author at aimee.lutkin@jezebel.com.