The Nigerian army said today that it rescued 200 girls and 93 women from an area of the Sambisa Forest where Boko Haram has a stronghold. The army says it "cannot confirm" that the rescued girls include any of the 276 students who were kidnapped from Chibok in April of last year.
The army announced the rescue on Twitter:
G/O Media may get a commission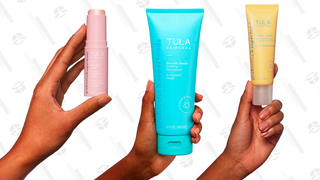 According to the BBC, the army is also saying it seized weapons from the Boko Haram camps it raided and destroyed. The people they rescued are currently being interviewed.
Amnesty International says Boko Haram has killed thousands of people and abducted many thousands more. (The Council on Foreign Relations says Boko Haram killed 10,000 people in 2014 alone.) The Chibok girls are believed to have been forcibly "married off" to Boko Haram fighters, as are many of the women and girls kidnapped by the terrorist group. Amnesty also received reports that some of the kidnapped people, adults and children alike, are being forced to fight for Boko Haram and participate in executions committed by the group.
Nigerian girls who fled Boko Haram are pictured in the the Baga Sola refugee camp in Chad, March 2015. Photo via AP