Yesterday, Nigella Lawson testified for the prosecution at the fraud trial of her former assistants. The picture she painted of her relationship with ex-husband Charles Saatchi was beyond bleak: it's clear that he was abusive, controlling and manipulative. Under oath, Nigella stated that Saatchi threatened to destroy her public image and spread "false allegations of drug use" about her; she implied that such behavior was part of a long pattern of emotional abuse. She admitted to using cocaine — about six times over a decade ago with her terminally ill late husband, and again, once, in 2010, in order to cope with the "acts of intimate terrorism" Saatchi subjected her to. However, she affirmed that the claims that she was a habitual drug user are "ridiculous."
You'd never know that from the media, coverage, though. A sampling of headlines: "Celebrity chef Nigella Lawson admits cocaine use." "Nigella Lawson: 'honest and ashamed' over drug use." "I'm not proud of drug use — Nigella." "Nigella Lawson admits drug use in court." "Nigella Lawson confesses to cocaine, pot use." "Nigella Lawson's Cocaine Shame: 'Not Proud' Of Drug Past, Insists She's Not A 'Drug Addict' In Court." And we're not even getting into the horrific Daily Mail piece, "Nigella admits she started seeing Charles Saatchi 'not very long' after her first husband died of cancer."
I get it, I do: Nigella's alleged drug use was extremely relevant to the case, so it makes sense that media outlets would want to cover that. However, there's something deeply disturbing about the salacious nature of the "NIGELLA USED COKE!!!" headline, especially in light of the fact that her abusive ex-husband wielded the allegations as a weapon in order to bully and intimidate her. Lawson testified that Saatchi "menaced" her with the drug use allegations — according to her, after the horrifying photographs in which he was publicly throttling her went public, Saatchi "said to me if I didn't get back to him and clear his name he would destroy me." And so he tried: "These [drug use rumors] were spread on a PR blog dedicated to salvaging Mr. Saatchi's reputation and saving mine... It comes after a long summer of bullying and abuse and I find it another chapter in that." The media's frenzied circulation of the "Nigella's Drug Shame" narrative is continuing and amplifying a chapter of horrific emotional abuse. That's nothing short of shameful.
G/O Media may get a commission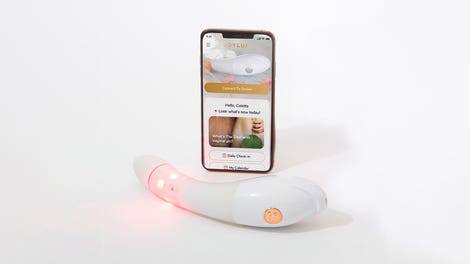 $50 Off
Joylux vFit Gold Device
Lawson also indicated that she only used cocaine and pot as a coping mechanism to deal with Saatchi's abuse. "I felt... subject to acts of intimate terrorism by Mr. Saatchi. I felt totally shamed, isolated and in fear," she said on the stand. "I have smoked the odd joint. I found it made an intolerable situation tolerable... Since freeing myself from a brilliant but brutal man, I'm now totally cannabis, cocaine, any drug, free." It seems that her infrequent drug use became part of a horrific cycle of abuse and control. A particularly disturbing example of this: Saatchi allegedly told everyone that he was "taking cocaine out of [Nigella's] nose" in the public throttling photos. Lawson testified that, in reality:
"[W]hat actually happened was that somebody walked by with a very cute baby in a stroller and I said 'I am so looking forward to having grandchildren', and he grabbed me by the throat and said 'I am the only person you should be concerned with. I am the only person who should be giving you pleasure.'"
And let's not forget that Charles Saatchi testified that he'd never seen Nigella take drugs: "I personally have absolutely no knowledge that Nigella has ever taken a drug, ever," he said in court last week. He added that over the "whole period" in which her assistants had accused her of being drug-addled, "she was writing books very successfully and appearing on television shows very successfully... I may have believed [the drug claims] but I may have been completely wrong." I strongly doubt the veracity of the claims mattered at all to him — he simply knew he could use them to manipulate his ex-wife. And, again, so he tried.
Even without any knowledge or proof of her alleged cocaine and pot use, it's clear that spreading rumors of Lawson's drug use in order to discredit and silence her is a control mechanism with which Saatchi is very familiar and comfortable. And, by emphasizing Lawson's (not very notable at all) "cocaine use admission" over the egregiously abusive dynamic inherent in the drug accusations, the media is complicit in Saatchi's control and emotional abuse. In court, Nigella said, "I have been put on trial here... and in the world's press." Why give an abusive, brutal bully the power to publicly excoriate his ex-wife in the news? Why enable Saatchi's abuse?
The important takeaway from this story isn't "Nigella admits to cocaine use." It's "Charles Saatchi uses drug rumors to control and 'intimately terrorize' his ex-wife, and we let him do it."
"Nigella Lawson says Saatchi threatened to 'destroy me'" [USA Today]
"Nigella Lawson due to give evidence at fraud trial of former assistants" [The Guardian]
"Nigella Lawson: 'I've taken cocaine'" [The Guardian]
"Nigella Lawson admits cocaine use in fraud trial testimony" [CBC News]
Image via AP.