As basically everyone predicted, Marc Jacobs will be succeeded at Louis Vuitton by Nicolas Ghesquière, who catapulted the fashion house Balenciaga into the realm of renown and acclaim during his 15-year tenure there — before departing suddenly and unexpectedly and sending the fashion world into paroxysms of grief (this is not an exaggeration; I used to assist a fashion editor who would periodically wail his name just because).
After leaving Balenciaga, Ghesquière gave an interview with the magazine System, in which he was very candid. How candid? Candid enough to get sued, which is the most candid one can be. In the interview, Ghesquière noted that, while Balenciaga has the history and pedigree of bigger brands such as Chanel and Prada, it lacked a functional corporate structure and a coherent vision. He lamented that bigger houses had "made this model where you can be a business and an opinion leader at the same time" and claimed that Balenciaga "started becoming a bureaucracy and gradually became more corporate, until it was no longer even linked to fashion."
He also claimed that the corporate side of things simultaneously stole his identity and tried to homogenize:
There wasn't really any direction. I think with Karl [Lagerfeld] and Miuccia [Prada], you can feel that it's the creative people who have the power. It was around that time that I heard people saying, 'Your style is so Balenciaga now, it's no longer Nicolas Ghesquière, it's Balenciaga's style.' It all became so dehumanised. Everything became an asset for the brand, trying to make it ever more corporate – it was all about branding. I don't have anything against that; actually, the thing that I'm most proud of is that Balenciaga has become a big financial entity and will continue to exist. But I began to feel as though I was being sucked dry, like they wanted to steal my identity while trying to homogenise things.
This ambiguity about branding and corporatization may seem a bit strange coming from someone who will, within a year, become creative director of the largest brand of the one of the world's largest luxury goods conglomerates. But, really, it's less strange than it is telling: it says a lot about the state of fashion now, wherein "designers seem to have morphed into commodities to be bought and sold," as Suzy Menkes puts it at the New York Times. The cult of personality and admiration surrounding a specific designer becomes a luxury good in its own right, which is incorporated into a brand — which perhaps explains Balenciaga's fairly bizarre decision to replace Ghesquière with Alexander Wang, whose brand of New York cool has hardly anything in common with the taste-making Parisian fashion house.
G/O Media may get a commission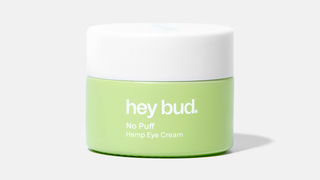 15% off
Hey Bud - No Puff Hemp Eye Cream
Will Ghesquière's conception of luxury — which combines a couture-like exacting approach with hyper-exclusivity — map well onto Louis Vuitton, whose brand of luxury is best represented through its ubiquitous logo? And if Ghesquière felt stifled creatively at a smaller house, how will he adapt to "a sprawling company with many creative and business chiefs across a plethora of product categories," as WWD puts it? Ghesquière's impact on the fashion world cannot be overstated; he influenced both other luxury designers and fast fashion tremendously. As The Cut put it last year:
If other collections disappointed, Balenciaga delighted, even if you didn't get the vibe of the collection right away; even if you weren't quite sure who was wearing these clothes. Until, months later, you would recognize them on some impeccable stranger having a fabulous lunch...

Ghesquière has always been ahead of the curve technically, pioneering new methods to obtain old-school results... and to create collections that felt elegant, yet fearless.
Having him back will be wonderful — let's hope that he's allowed to express himself freely and exert enough creative control to maintain his status as a visionary. Seeing as Marc Jacobs just enjoyed 16 illustrious years with Louis Vuitton, the situation seems rather hopeful.
"Louis Vuitton Confirms Nicolas Ghesquiere Hire" [WWD]
Image via Getty.