A fun way to make young people battle in the public eye without having them murder each other is to invite female celebrities to insult Miley Cyrus and then take their baffled responses out of context. Hunger Games!
In accordance with this idea, an interviewer from BBC's Newsnight asked Jennifer Lawrence what she thought of the sexualization of young women in Hollywood (subtweet: Miley Cyrus). The actress answered in a very likeable and classy way because she is Jennifer Lawrence: "It is a part of the entertainment industry that sells. For some disgusting reason, young sex sells even more."
Despite J-Law's dogged attempts to not insult anyone ("It's not really something that I worry about because I feel like everybody's kind of got their own path"), the interviewer pressed her about that time Cyrus twerked with a little person. Lawrence responded, "I am just saying to each their own." [NY Daily News]
---
G/O Media may get a commission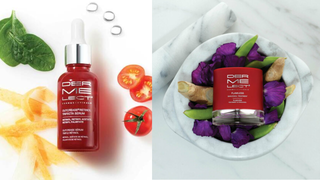 Save $19
Retinol Renewal Kit
Talk about National Treasure (and National Treasure 2: Book of Secrets)! Nicolas Cage, an actor best known for screaming while making a face, has had sex photos stolen from his house. The photos, which have been vaguely described as "depict[ing] him getting down and dirty with Christina Fulton" were stolen by Cage's former handyman.
In a very cinematic twist (IF I WAS BEING TOO SUBTLE WITH THE NATIONAL TREASURE REFS BEFORE, SOMEONE PLEASE MAKE THIS INTO A SEQUEL TO THE SEQUEL), the handyman is being held under $1 million bail. He has pleaded not guilty, and the photos are still missing. The police are actively on the hunt.
It's possible but unconfirmed that they have a treasure map that leads the way to an underground fortress with the Constitution in it — and when you hold a candle under the document, a sexual image of Nicolas Cage appears under the hallowed text. Like, it could happen. [TMZ, The Hollywood Gossip]
---
At this point, every tabloid and gossip website should just be replaced with an empty page that says simply "JUST FOLLOW THE KARDASHIANS ON INSTAGRAM." In breaking news, Kim Kardashian photographed her extremely cute baby, bearer of the sweetest giant cheeks in the world, being held by Ricardo Tisci. Tisci is hanging loose as he clasps the child. I could stare at the image forever. [Bossip]
A few hours prior, Kim was pulled over and ticketed for speeding. She was being pursued by three or four paparazzi at the time; one particularly opportunistic photographer was also ticketed for pulling over and taking pictures of the police officer writing her a ticket. Blergh. [E!]
---
Nina Dobrev and Ian Somerhalder, two very attractive humans who appeal to the youths of the world on some steamy show about vampires arguing and feeling angsty, are "back on." They are not dating, but they are maybe "getting hot and heavy," which is a kind of horrific phrase. [E!]
---