Nicki Minaj might be a feminist and she might not but one thing is sure, the Queens-by-way-of-Trinidad woman is rejecting all those who try to squeeze her into a singular definition of herself and career.
In a chat with Vogue, Minaj talked about her complicated relationship with feminism:
You know, I feel like certain words can box you in. I think of myself as a woman who wants other women to be bosses and to be strong and to be go-getters. I've always said that, since I came in the game, even when I was doing mixtapes. I don't know. There are things that I do that feminists don't like, and there are things that I do that they do like. I don't label myself. I just say the truth about what I feel: I feel like women can do anything that they put their minds to. That's really the truth—I started off with just a dream.

There are sexual things that I do that aren't for a man. I feel empowered sometimes by being sexy and being comfortable enough to be sexy on camera—a lot of woman struggle with that. But there are some days that I don't want anyone to see me. I'm just a regular girl. Some days I'm super strong; some days I'm super insecure. But I don't really identify with any particular label. I just speak my truth and if people like it, they like it, and if they bash it, they bash it.
Interesting, right? Whether Nicki is or isn't a proclaimed feminist remains to be nailed down. Unlike Beyoncé, who rejected feminism only to pick it up later and Marshawn Lynch it through pop culture, the "Anaconda" MC never actually said she was or wasn't. However her expression of women taking control of their business has indeed always been a part of her narrative that she's told her fans, the Barbz and Ken Barbz.
G/O Media may get a commission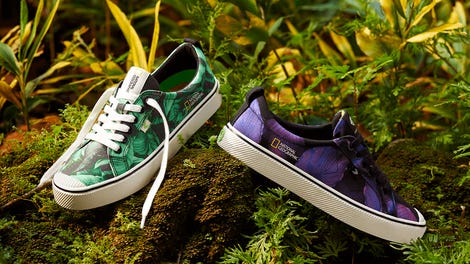 New New New
Cariuma + National Geographic
Later Minaj explained how growing up in Trinidad and then Queens, New York shaped her as an artist:
I love island culture. I love being an island girl. I wear that so proudly. I love being able to say, I'm not American, I'm Trini. I think it gives me so much more depth. I'm able to connect with people who aren't just Americans, but so many West Indian people no matter where they come from can identify with me just off the strength that they know we have something in common.

Reggae music has inspired me so much. When I left Trinidad, I was young, so I didn't grow up on calypso per se. But I love all the big Trini acts. Machel Montano, Bunji Garlin, and Fay-Ann—they do such a great job representing my country. But when I came to New York, reggae was a big part of life in New York. That was the time when—and I still think Beanie Man is the king of dancehall—you couldn't go anywhere without hearing Beanie Man a million times. And Buju Banton. These amazing reggae artists influenced me more than I think people realize. It's always there on the album—I always at one point on an album have to represent for my island people.
Nicki also confirms that she and rapper Meek Mill are "hanging out" and having "fun."
This is what I want to say about him: People think for some strange reason that we just started becoming friends recently. We've been friends for a very, very long time, and he's been around for a lot of things that I've gone through. And that's all I'll say about that.
To the Vogue readers who are probably googling Meek right now, start with the commercial single "Amen" and then work your way forward folks. Meanwhile, as Nicki's twerk around the word "feminist" continues, I'm going to cue up her "Flawless" remix, the contemporary feminist anthem of our lives.
Image via Getty.