You know when a new colloquialism comes to market and you're like, YES, that's it, that's just the modification I've been looking for and now I'm going to use the shit out of it until it's painfully threadbare? That's kind of what's going on right now with 'Fleek.'
Ana Gasteyer Satirizes the Girl Boss in 'American Auto'
Except, as is the case with buzzwords, there's always someone who'll stake a claim as its originator; in this case, it's Nicki Minaj, who apparently had an issue with "not a greedy Biatch" Christina Milian using "Pretty on Fleek" (a line featured on Nicki's track "Feeling Myself") on a crop top for the E-commerce site WeArePopCulture.com.
Via Complex:
In the caption on Instagram, Minaj says she's waiting on a percentage of the sales of Milian's "Pretty on Fleek" T-shirt/sweater line (see above) that can be purchased onWeArePopCulture.com. Then, she ended her comment with tilting her head sideways. Milian was quick to respond.
G/O Media may get a commission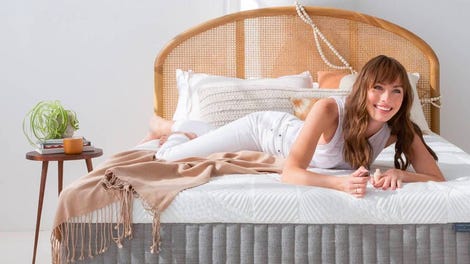 Sleep Sale
Sleep Sale - Brentwood Home
The two songstresses supposedly hashed things out on Twitter—kind of a weird place to do that, but whatever—with Milian acknowledging that she's been using "#OnFleek" for quite some time.
All I know is this: 1. Nicki Minaj is one of the last people on the face of this planet I'd want to fuck with. (No disrespect to Christina Milian, of course, but I'm just saying: I, personally, wouldn't go there.) And, 2. I'm almost 33, and I'm still trying to make "Sick" happen, because my inner 12-year old who had a crush on all of the super cute middle school sk8er boys refuses to die.
Image via AP and WeArePopCulture.com