Perhaps the only person in the world who isn't yet tired of the Nicki Minaj/Remy Ma beef is none other than... Nicki Minaj! We are now almost four months into this war of words—the song that kicked it off, Gucci Mane's "Make Love," on which Nicki appeared, dropped February 23, while the sole truly stunning track of the kerfuffle, Remy's "SHEther" was released February 25—and it's been about three months since it's been even remotely interesting. Tomorrow, the pack of singles Nicki released in delayed response will be three months old! A whole season of this shit!
Many assumed Nicki's guest turn on Katy Perry's flop "Swish Swish" extended the beef, though Nicki's words there are vague in their combativeness ("Silly rap beefs just get me more checks / My life is a movie, I'm never off set... / Don't be tryna double back, I already despise you / All that fake love you showin', couldn't even disguise you"). However, there's no question to whom Nicki is referring during her verse on 2 Chainz's "Realize," off his forthcoming Pretty Girls Like Trap Music. Some of Nicki's bars leaked from a listening session, and here they are:
Raps Nicki:
I've been winning eight years consistently, at least respect it

Papoose wrote that "Ether" record, but I broke Aretha record
See this is chess, not checkers

You cannot check the checkers

Did Nas clear that "Ether" record?

Nah, but I will complete the record
OK, is it complete yet???
Remy has repeatedly discussed the beef in interviews since releasing "SHEther" and its quick follow-up "Another One" that was generally regarded as one too many, but she hasn't said anything in song despite Nicki's repeated invocation of it* (in "No Frauds," perhaps in "Changed It," almost certainly in "Swish Swish," and now in "Realize"). Continuing to devote creative energy to this thing that has been long over, in terms of public conception, suggests that Nicki is still thinking about Remy's mean words... which, why? Is it because "No Frauds" wasn't quite the hit it initially seemed poised to be and Nicki feels like she needs to have her message heard? Is it because Remy's words actually injured Nicki? Instead of teaching Remy a lesson, is Nicki out to teach her a course?
G/O Media may get a commission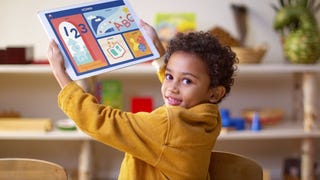 30-Day Free Trial
Homer Learn & Grow Program
I know it may seem impossible to imagine in this hyper-connected world where celebrities curate not just their public output but their quasi-behind-the-scenes "real" lives via social media and everyone is talking about everything all the time, but sometimes less is more. A swift fatal blow on Nicki's part could have been truly awe-inspiring instead of this slow death she's inflicting on all of us. This sucks.
Finally, this is not the first time Nicki has publicly bragged about beating Aretha Franklin's record for charting the most singles on the Billboard Hot 100 (as a woman). I'm going to invoke my right as an old to say that there's a big difference between having a hit on the Hot 100 and merely placing a song on it (there are about as many charted Nicki songs that went Top 40 as there are that missed it) and that if and when she creates something as musically genius as "Ain't No Way" or "I Say a Little Prayer," or as culturally resonant as the Civil Rights Movement anthem "Respect," only then will Nicki persuade me she has a leg to stand on when boasting about besting than the Queen of Soul.
*Note: Remy's take on Future's "Mask Off," which was released Friday, June 9, contains possible (albeit oblique) references to Nicki: "Murder next/ Who I'm murder next?/ Maybe her, nah she ain't worth it yet/ I burned you/ Your new name is Bernadette" and "Pulled up riding in the range/ You know you winning when your enemies is gang/ Fake models hoes getting cute/ Don't hang yourself trying be up in the loop." So maybe she's not performatively over it yet either.