Yesterday, Safaree Samuels, the ex boyfriend of Nicki Minaj, released "Love The Most," a wounded ode to their 12-year-long relationship, on iTunes. Nicki—unsurprisingly—was not pleased.

In the song, Safaree accuses Nicki of cheating on him by kissing Nas, having a pill habit, and generally letting him down. Here's an excerpt:
Yeah I was a backbone, a little caught up in the light

All I did was hold you down, before it all you was my wife

Real life behind the scenes, all I did was really help
To them you just a billboard, I cared about your health

I don't care about the wealth

I ain't care about your fame

I ain't care about no flawless VVS's in your chain

I ain't sayin' I'm the best, no one will love you like I did

12 years up in flames, thought you woulda had my kid

Year 3 got engaged, now we movin' out of rage

I ain't never think our book woulda ended on this page

Had to watch you kiss Nas and pretend it's all cool

Inside I was feelin' like a motherfuckin' fool

Life revolves around a bitch show me a man that won't cheat
Nicki then responded on Twitter like Safaree was a $50 clothes budget and some sliced pickles on a fucking plate. (The tweets have since been deleted.)
As of this morning, she was taking a more gentle approach.
G/O Media may get a commission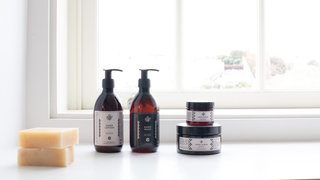 Exfoliate and Hydrate
The Handmade Soap Company
Think about that #B4Ujudge.
[NYDN]
---
Since Taylor Swift and Calvin Harris made their first public appearance together at the Billboard Awards in May, Taylor has taken things to the next level by posting a photo of them chilling by the pool to Instagram. Her caption reads "Swan goals." Okie doke. [POPSUGAR]
---
SACREBLEU! Bradley Cooper is suing the same French tabloid that Leonardo DiCaprio is suing, but for slightly different reasons. Bradley has filed a lawsuit agains Oops! for writing about his rumored relationship with model Irina Shayk, saying that the mag violated his right to a private life. According to TMZ, Oops "has no idea why Cooper is suing, since their story is based on photos that ran in a Spanish magazine. In fact, those same photos were also everywhere in the U.S." [TMZ]
---
---
Contact the author at madeleine@jezebel.com.
Images via Getty