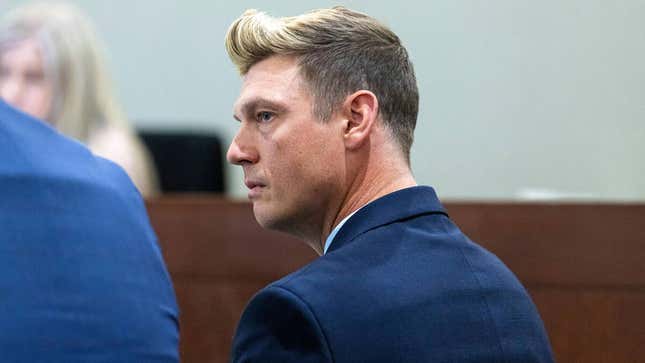 This week, a third woman accused Nick Carter of sexual assault. In a new lawsuit filed Monday, an unnamed woman—identified only as A.R.—claimed the singer sexually assaulted her aboard his bus and on his yacht on two separate occasions when she was just 15 years old.
The filing (which accuses Carter of sexual battery and intentional and negligent emotional distress) details three alleged assaults—two of which A.R. claims occurred on a yacht in 2003. On one occasion, Carter "knowingly provided alcohol and drugs" to her and "enticed three other men" to watch him "engaging in sexual intercourse with then-minor A.R. from a vantage point of an outside window in the cabin of Carter's yacht."
"Carter continued to engage in sexual intercourse with A.R. despite her repeated refusals and requests for him to stop," the lawsuit states.
The filing goes on to claim Carter "knowingly engaged" in "sexual acts" without A.R.'s consent, that he did so without using protection, and "instructed" her to keep the alleged abuse a "secret." At the time of the alleged abuse, Carter would've been 23 and at peak fame.
A.R. also accused Carter of infecting her with HPV. Notably, another accuser of Carter's claimed she also contracted HPV after he allegedly raped her in 2003. According to A.R., she told her mother about the abuse and reported it to Southern York County law enforcement in Pennsylvania. The filing states she's now seeking $15,000 in damages.

"The impacts of Carter's sexual abuse are ceaseless, causing Plaintiff severe emotional distress, physical anguish, intimacy issues, and other complex trauma," the suit reads, adding: "Plaintiff has experienced ongoing harassment from fans of Carter's well known boy band, the Backstreet Boys, for decades."
Naturally, Carter has denied A.R.'s accusations, as he has in all other previous assaults.
"When A.R. first accused Nick Carter almost two decades ago, authorities listened and thoroughly investigated–and then informed A.R. that her allegations were meritless," Dale Hayes Jr., Carter's attorney said in a statement to People. "And now she's at it yet again. But repeating the same false allegations in a new legal complaint doesn't make them any more true. Nick is looking forward to the evidence being presented and the truth about these malicious schemes coming to light."
In December 2022, Shannon Ruth filed a sexual battery lawsuit alleging that Backstreet Boys singer Nick Carter raped her when she was just 17. Ruth, who news outlets have noted is autistic and has been diagnosed with cerebral palsy, claimed Carter picked her out of a crowd outside of his tour bus in 2001. Once on the bus, she said he plied her with a pink drink he called "VIP juice." The drink, she now thinks, was a mix of cranberry juice and some kind of alcohol. Carter then led Ruth to the bathroom on the bus, instructed her to get on her knees, and forced her to perform oral sex, she alleges. Though she was crying, Carter insisted she keep going. Later, she claimed, Carter vaginally penetrated her.
"After he raped me, I remember him calling me a 'retarded bitch' and grabbing me and leaving bruises on my arm," Ruth said. She also recalled Carter saying that "he'd turn people against me, because he was Nick Carter and had the power to wreck my life."
In 2018, the Los Angeles District Attorney's office declined to bring the case to court. Additionally, Melissa Schuman, a member of the girl group Dream, also accused Carter of raping her in 2002, when she was just 18 years old in 2017.
Carter has not only denied all of the alleged assaults, he's since filed counterclaims of defamation against both Ruth and Schuman—the first of which was successful as of March 2023.
"We hope that A.R. receives some measure of justice and that this lawsuit will pave the way for other survivors to hold their abusers to account," A.R.'s attorney, Margaret Mabie, told the Los Angeles Times in a statement.