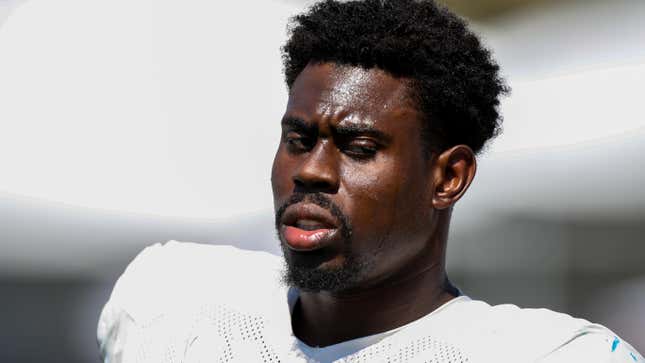 Los Angeles Rams defensive tackle Sebastian Joseph-Day accused TSA agents at the John Wayne Airport in Orange County, California, of sexually assaulting him in a series of tweets on Friday.

Infamously Thin-Skinned Man Joins Twitter's Board
"I really just got sexually assaulted by TSA," Joseph-Day, who won a Super Bowl with the Rams in 2022, said. "After I asked the gentleman to please stop BC I'm uncomfortable and I feel that this part of the check is unnecessary (After he felt what was needed). Then they told me I was the problem after 3 TSA agents swarmed me."
He called the incident "extremely unnecessary and dehumanizing" in a follow-up tweet and said he shared his story not "for sympathy," but "so this group of gentleman and staff aren't allowed to do this ever again to another human being."
"I travel a lot, for personal and work reasons. I've never experienced anything like that," Joseph-Day said.
On Monday, the TSA told NBC that it's aware of Joseph-Day's allegations and is investigating video footage of the incident "to determine if our procedures were followed and whether any corrective action needs to be taken."
Joseph-Day tagged the airport, the city of Irvine, and the Orange County Sheriff's Department in his tweets. None have issued public statements regarding his posts at this time, nor did they immediately respond to a request for comment from Jezebel. The Rams player seemed to anticipate challenges to reporting his experience or holding the TSA accountable. "When I do try to file a complaint they are making me jump through hoops to do so," he wrote in one tweet.
It's relatively rare for male public figures to come forward and share experiences with any kind of sexual misconduct or body violation. Men's rights activism more often focuses on defending men accused of sexual abuse than men who are victimized—even as men are more likely to experience sexual misconduct than be falsely accused. Persistent sexism continues to all but write male abuse victims out of existence—unless, that is, there's an opportunity to frame a male abuser as a victim of "mutual abuse" by a woman who fought back, as in the case of Johnny Depp and Amber Heard.

As the TSA has ramped up security measures over the last several years, some have shared stories of being violated or inappropriately touched and searched by agents. In the last couple years, travelers in Orlando, Florida; Asheville, North Carolina; and Atlanta, among other cities, have reported similar experiences to Joseph-Day's. There have also been frequent criticism of the invasiveness of some TSA scanning technologies and pat-downs.