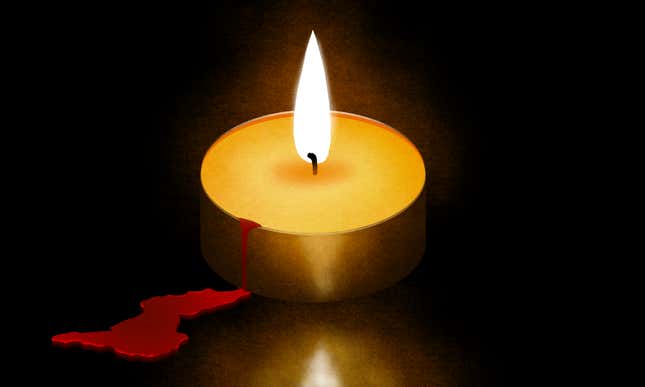 Rajwantie Baldeo was killed just after midnight on December 5. Her husband, Prem Rampersaud, 50, confronted her about a man she had allegedly met online, then he stabbed and nearly decapitated her. According to the New York Daily News, Rampersaud got on one knee to saw at Baldeo's neck, and a "witness told cops they could hear the blade scraping bone." She was 45.
About two weeks later, around 50 people gathered to honor her and the many other women in the Indo-Caribbean community who have died in New York in recent years as a result of domestic violence. The vigil was held at Naresa Palace, a bar and music venue just north of John F. Kennedy Airport, and was organized by the Jahajee Sisters, a New York-based group led by Indo-Caribbean women that campaigns against gender-based violence and advocates for reproductive justice and LGBT rights.
At the vigil, two of Baldeo's daughters, both adults, sat on a couch to the side of the performance area, holding tight to each other. Both declined to address the vigil or to be interviewed by the press. Attendees crowded onto other couches and stools or stood somberly near the front of the room. On the stage were four empty chairs, with handmade posters leaned against their legs. "You are in our hearts. #RIP Rajwantie Baldeo," said one. It was an evening of contrasts—the glitter and glam of the bar, with its bright neon lights and disco balls, and the heavy weight of a community in mourning.
"I grew up watching my mom being beaten, being taken advantage of, having her mind, having her body, having her money, having her soul, overtaken by a man," said Jahajee Sisters member Nadia Bourne in her opening remarks.
"We're all here because on the 5th, Rajwantie Baldeo was viciously murdered," Bourne added. "And where was the outcry from our community?... Did we hear anything at our kitchen tables? Did we hear anything at our mandirs [Hindu temples]?"
Jahajee Sisters was founded around a kitchen table in 2007, by activists moved by the murders of two Indo-Caribbean women, Natasha Ramen, 18, and Guiatree Hardat, 22. Since their inception they've had to bury other members of their community; over the course of the evening, activists repeated the names of Ramen, Hardat, and other women who have died at the hands of their partners. In 2014, Amarita Khan, 25, was stabbed to death by her husband in front of a crowd of 30 people. Community members also attribute the death of Marisha Cheong, 24, to domestic violence.
Intimate partner violence is hardly unique to the Indo-Caribbean community—it is a pervasive phenomenon that touches every corner of the United States and elsewhere. A 2015 study from the Violence Policy Center found that 1,600 women had been killed by men in a single year, with the vast majority (94 percent) of the murders perpetrated by someone the woman knew.
Yet particular factors can shape the way this violence manifests within specific communities. LGBTQ people experience higher rates of domestic violence than their straight or cisgender peers, a trend which researchers have attributed to homophobia and other external stressors of being part of a minority group.
The Jahajee Sisters have identified factors that affect domestic violence amongst Indo-Caribbeans, as well. "We believe that the violence in our community and silence surrounding it partly stem from our colonial roots," said Bourne in an email.
Between 1838 and 1917, spurred by the abolition of slavery and the demand for more labor, over half a million Indians were brought to the Caribbean as indentured workers, with Guyana and Trinidad receiving the highest influx of Indian migrants. But the ratio of woman-man Indian migrants to the Caribbean was extremely imbalanced—initially "as low as three to 100"—which contributed to high rates of violence and sexual assault, according to the Jahajee Sisters.
In the 1960s, Indo-Caribbeans began migrating to the United States, primarily to New York. Today, the city's Indo-Caribbean community is estimated to be about 300,000 strong, mostly centered around the South Queens neighborhood of Richmond Hill. "The generational trauma continues to play out today through normalized cultural behaviors and practices," explained Bourne. "Immigration status and economic dependence—the fear that reporting to police will separate families and result in the loss of a breadwinner in the home—are also significant issues."
Nesha Haniff is a lecturer at the University of Michigan's Department of Afroamerican and African Studies, and has written about domestic violence in the Indo-Caribbean context. She stressed that historical conditions are just one factor at play when it comes to understanding gender-based violence. "While there was a great deal of violence from men about the few women available, this paucity of women also gave women tremendous power over men which they did use to their advantage," Haniff told Jezebel. "Violence against women is not just specific to Guyana or Indian women or African women, or immigrant populations in the US, it is a problem of gender inequality across the world."
Fear was a constant presence in Rajwantie Baldeo's life, at least according to one of her daughters. "My dad was a very bad person. My mom didn't deserve to die like that," her daughter Shalini Ronaldo Ramjiawan, 30, told the New York Daily News. Baldeo reportedly told coworkers that Rampersaud was her ex-husband. He has since been charged with murder and criminal possession of a weapon.
Over the course of the evening, community members expressed support for Baldeo's family, reassuring Baldeo's daughters that they did not have to endure their pain alone. The group Gangadai Kirtan played for the crowd. Other Indo-Caribbean survivors of violence shared their story, sometimes brought to tears by the pain. Several organizations that had co-sponsored the vigil addressed the crowd, including the Caribbean Equality Project (CEP), an LGBTQ group.
Never before had the NYC Indo-Carribean community come together to honor a victim of domestic violence, according to activists like CEP founder and Executive Director Mohamed Q. Amin. "This is the first time that we convened our community to really say 'no more silence,'" he said.
"We are mourning with the [Baldeo] family," added Amin. He continued on, explaining that the community hoped to echo the voices of Baldeo's daughters, even if they did not currently have the emotional capacity to do so. "And to really let our community know… that if you are experiencing violence… you have support out there."
Those present at vigil did not just express concern about the silence of the local community. Activists also shared their frustration and alarm about the relative invisibility of Indo-Caribbean residents to power holders in New York City and beyond.
In the neighborhoods of Richmond Hill and South Ozone Park "there's a lack of public services for Indo-Caribbeans when it concerns these issues," said Vedesh Persaud, the Interim Executive Director of the Indo-Caribbean Alliance, in a phone interview. That's an issue that the city of New York could address, he pointed out.
Vigil attendee Rohan Narine, 32, was more direct. "There needs to be a representative from the Mayor's Office [here]," he told Jezebel. People outside of the community, including local officials, should be taking this issue seriously, he added.
Will Depoo attended the vigil as a member of DRUM—Desis Rising Up and Moving, a Queens-based membership-led group that mobilizes low-wage South Asian workers. "[Men] staying silent and not talking to the men in our community about it makes us all complicit in the violence against women," Depoo said in an email. "We need to have conversations about the toxic masculinity we continue to perpetuate. We need to discuss how our everyday actions and words are hurting women." DRUM co-sponsored the event.
"Now more than ever, it's important for white feminists to center and support the leadership of women of color," said Bourne, when asked via email what the Jahajee Sisters needed from mainstream women's or feminists groups.
"We need a seat at the table, but we also need to be setting the agenda. That is how progressives will win—by following the lead of black and brown women who are a moral compass and will fight like hell because we have the most to lose. "
As the somber, two-hour event came to a close, attendees gathered in a circle. Holding hands they chanted, "Wake up from your ancient sleep" and "Rise up my people, rise up, rise up!" A bracing December chill greeted the crowd as they made their way home.
Aviva Stahl is a Brooklyn-based journalist who primarily writes about prisons, national security and immigration detention. You can follow her @stahlidarity.