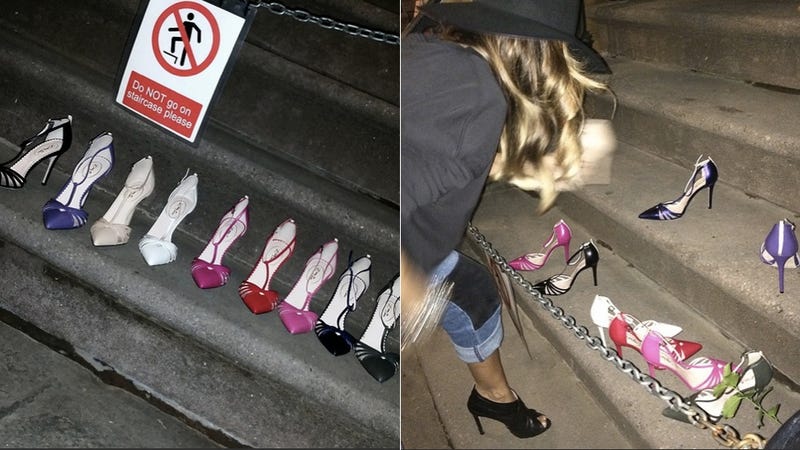 My, my, it's the juiciest Manhattan property ownership kerfuffle since Vogue's Lauren Santo Domingo started digging a geothermal well under her Gramercy Park townhouse! Apparently, the owners of the West Village building used as Carrie Bradshaw's home in Sex and the City are livid over an illicit photo shoot for SJP's Nordstrom shoe line.
The New York Post has the story. You see, the owners of 66 Perry Street are absolutely sick of tourists mobbing their building. Said Perry Street Association president Gerald Banu: "The situation with 'SATC' visitors is still very intense. People who live here get upset that the sidewalks are constantly jammed." They struck back at the ruckus with a chain warning visitors off the staircase.
And then, on October 7, Sarah Jessica Parker's shoe brand posted Instagram outtakes from a photo shoot on the staircase. BOLD AS BRASS. According to the Post's sources, the owners hadn't given their blessing. Said one:
"The owners are up in arms as they deal with relentless tourists, and SJP has ignored their requests for an explanation on how she could endorse the shoot, even though 'no trespassing' signs are posted. SJP used their house during the years of filming, and now won't acknowledge that she and her company used the steps and facade, this time without permission, to promote her shoe line."
It's hard to summon much sympathy for the besieged owners, since their home is likely worth more money than most Americans will ever see in their entire lives. (Thanks in part to Sex and the City!) And if a movie star staging an unauthorized photo shoot for her shoe collection is the worst inconvenience their neighborhood has to offer, well, must be nice never wondering whether that's a human turd at the bus stop!
But after ten years of buses full of tourists and cupcakes and selfies on my stoop, I'd probably be pretty fucking sick of Sarah Jessica Parker's face, too.
Images via SJP/Instagram