A new accusation of sexual assault, as well as the suggestion of an attempted cover-up, have been lodged against Les Moonves, who resigned in September from his perch at the head of CBS after 12 women told the New Yorker that he had sexually assaulted or harassed them.

The New York Times published a damning report on Wednesday which could threaten Moonves' $120 million exit deal from CBS. Moonves is owed that money, but only upon completion of CBS's internal investigation of claims made against the former CEO, according to the report. CBS declined to comment for the story.

In the report, actress Bobbie Phillips accuses Moonves of forcing her to perform oral sex and trying to hush her up years later by helping to line up casting opportunities.
In 1993, when Phillips was 25, she signed with Hollywood agent Marv Dauer. In 1995, Dauer arranged for Phillips to meet Moonves, then the president of Warner Bros. Television. The two wound up meeting at the Warner Bros. studio on March 7 of that year. It was there that Phillips says the attack took place. Per the Times:
"In a recent interview, Ms. Phillips described what happened next. Mr. Moonves led her to an easel that showed the status of various Warner Bros. productions. She examined it, then turned to face him. 'Look how hard you make me,' Mr. Moonves said. She saw that he had undone his trousers, exposing his erect penis.
'Be my girlfriend and I'll put you on any show,' he said, in Ms. Phillips's recollection—and then grabbed her by the neck, pushed her to her knees and forced his penis into her mouth."
G/O Media may get a commission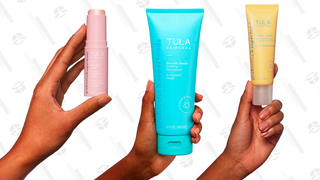 Soon after the meeting, Dauer reportedly asked Phillips how it went. After some reluctance on her part, Dauer told the Times, "I didn't want to push her, but she told me he violated her. He must have done something awful."
In November 2017, Dauer got a call from a Times reporter who "asked about Mr. Moonves and sexual midconduct." A few days after the call, Dauer got in touch with Moonves and over the next several months struck up a correspondence that suggests the two were attempting to find work for Phillips in the hopes that she would keep quiet. According to the report, Moonves initially proposed a role worth $1,500 on a new series called Blood and Treasure.
Moonves said in a statement to the Times, "I strongly believe that the sexual encounter with Ms. Phillips more than 20 years ago was consensual."