You may recall the recent Kardashian Khroma Kurfuffle in which the Klan decided to name their makeup line a name that was already taken by another makeup line. This ended in the family actually losing a court case and having to name their line something boring and normal like Kardashian Beauty. Now they're being attacked from another, much more nefarious party: New York State Governor Andrew Cuomo.
According to the Daily News, The State of New York alleges Rich Soil, a company Khloe Kardashian and Lamar Odom run, is selling a shirt – which comes in a tank or a black or white t-shirt, each at the low low price of $35 – that looks way too similar to the logo used by the Department of Agriculture of New York State:
"'The State of New York has invested substantial time, effort and resources creating the respect and goodwill associated with the trademark,' Susan Rosenthal, a lawyer for the Department of Agriculture, argued in a letter sent to Rich Soil on Friday.

The letter demanded that Los Angeles-based company immediately halt the sale and advertisement of merchandise featuring the logo — and provide an estimate as to how much money it has made off of the design.

If Rich Soil fails to respond, Rosenthal warned, the state will take legal action."
G/O Media may get a commission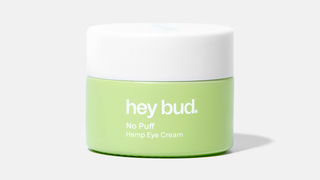 15% off
Hey Bud - No Puff Hemp Eye Cream
Let's just imagine the scenario in which a design from the New York Department of Agriculture ended up across the breasts of 1/3 of America's most valuable commodity:
Khloe: Honey, we really need some new inspiration for our shirts.
Lamar: Mmhm.
Khloe: What do you think about just using some copy and images from my favorite website, http://www.agriculture.ny.gov/AP/PrideOfNY/p…? I just associate so much goodwill with them. They have crunchy apples. They have wine that's so great "you can almost taste the pride." They have "fresh and processed products that never go out of season."
Lamar: Mmhm.
Khloe: We can "Be part of the Pride" by selling a product that has this logo affixed to it. It will declare us one of "the generations of family farms and food processors who have made New York State one of America's leading suppliers of food and agricultural products."
Lamar: Mmhm.
Gov. Cuomo orders Khloe Kardashian to stop selling T-shirt with emblem resembling a state logo [Daily News]

Image via Frazer Harrison/Getty