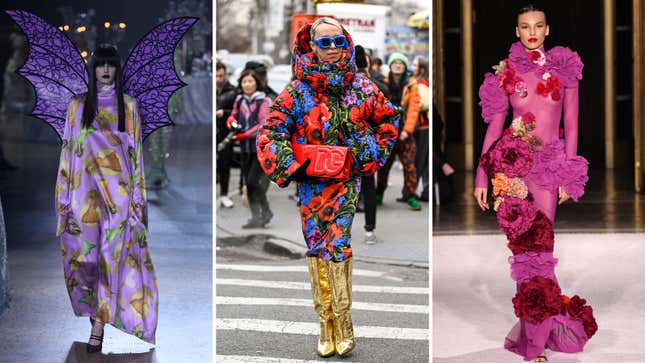 It's been close to two decades since The Devil Wears Prada premiered and Miranda Priestly all but spat on one of her Runway editors who'd suggested floral accessories for an upcoming editorial: "Florals? For spring? Groundbreaking." It's a good joke...a great joke even. But I think it's time to let that joke rest in peace among all the other ruins of the early aughts, including low-rise jeans and dresses worn over said jeans.
There are more than 40,000 flower species across the world—who are we, a bunch of big, fleshy, oaths that stomp around the Earth dumping gas and concrete on everything, to deem flowers not groundbreaking? Plus, these are the designers' Fall/Winter 2023 collections, so they're technically not even for spring.
Anyway, flowers are IN. So are fairies, butterflies, animal masks, scrambled egg nipples, and bonnets. Please join us on this journey through the current New York Fashion Week.