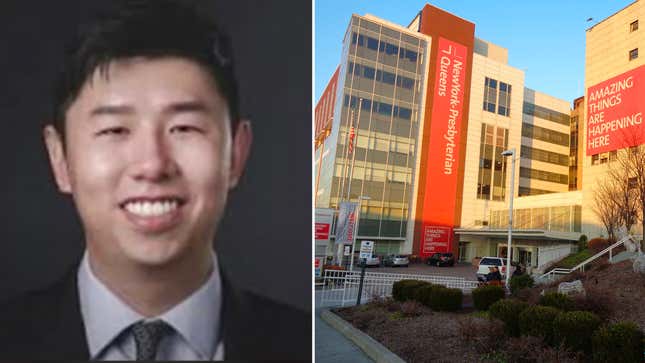 A gastroenterologist at the NewYork-Presbyterian Queens Hospital was arraigned on Monday, facing charges of sexually abusing three of his patients at the hospital and raping three other women, some of whom he met on dating apps, in his apartment in Queens, New York.

The gastroenterologist, a 33-year-old man named Zhi Alan Cheng, was terminated from his position at the hospital in December 2022 shortly after being arrested for allegedly raping a woman at his apartment, the Associated Press reports. The woman brought the rest of Cheng's alleged sex crimes to the attention of law enforcement after uncovering numerous videos of Cheng abusing other women while in his home.
Investigators who came to Cheng's home uncovered multiple forms of liquid anesthesia, cocaine, ecstasy, and the videos in question, which showed Cheng sexually abusing multiple patients—including a 19-year-old patient and a 47-year-old patient whom prosecutors characterized as "seriously ill." All of the patients abused and filmed by Cheng appeared to be unconscious and sedated under anesthesia, court documents show. The alleged assaults took place throughout 2021 and 2022.
In 2021, Cheng was accused of raping a 19-year-old patient who went to the hospital the day before a scheduled gall bladder removal. The 19-year-old claims Cheng unexpectedly injected her with a substance that caused her to fall asleep, and when she woke up, Cheng was gone, her attorney said. The hospital launched a short-lived investigation, according to her lawyer, that included checking surveillance footage and creating a lineup of possible assailants through which the patient identified Cheng. But NewYork-Presbyterian ultimately "conspired to cover up her assault by failing to tell her what had happened, failing to test or treat her for the illegal and dangerous injection of drugs she had been given, and refusing to call the police." Cheng remained at the hospital until December.
"The recovered evidence compiled paints the picture of a sexual predator of the absolute worst kind, a serial rapist, someone willing to not only violate his sacred professional oath and patients' trust, but every standard of human decency, as well," Queens District Attorney Melinda Katz said in a press release on Monday. "We will present the facts to a jury and achieve justice for the victims of the horrific assaults captured on video."
A spokesperson for the New York-Presbyterian hospital system said in a statement that Cheng's behavior constitutes "a fundamental betrayal of our mission and our patients' trust."
But unsettlingly enough, the charges against Cheng follow a similar, harrowing case of a NewYork-Presbyterian gynecologist who allegedly abused more than 245 women over the course of 20 years, and was sentenced to 20 years in prison in June.
A steady stream of former patients of the gynecologist accused him of abuse after he was first accused in 2014. But initially, in 2016, the Manhattan district attorney's office allowed him to plead guilty to two low-level felonies and a misdemeanor and give up his medical license as part of a deal that didn't require jail time and would even keep him off the state's sex offender registry. Eventually, federal charges were brought against the Manhattan gynecologist following outrage in the later 2010s due to the emergence of MeToo.
Cheng is also among numerous other medical professionals who have been charged or accused of filming their acts of sexual abuse, including a Colorado doctor who faced charges of creating sexual films of his medical exams on patients in 2019, a plastic surgeon in California who faced similar charges in 2012, and another California doctor charged with setting up cameras in his practice last summer.
Sexual abuse within the medical system is an ongoing issue: Data from the U.S. National Practitioner Data Bank indicates that between 2003 and 2013, 862 physicians faced state licensing disciplinary actions due to a total of 974 cases of sexual misconduct. One survey found nearly 10% of physicians report having engaged in sexual contact with at least one patient, which experts have characterized as innately "suspect" due to the power dynamics of a doctor-patient relationship.
Speaking to a local news station on Monday, Katz explained she couldn't publicly comment on the details of each of the allegations against Cheng. "But I will tell you that it has been a traumatic type of case all around," she said.