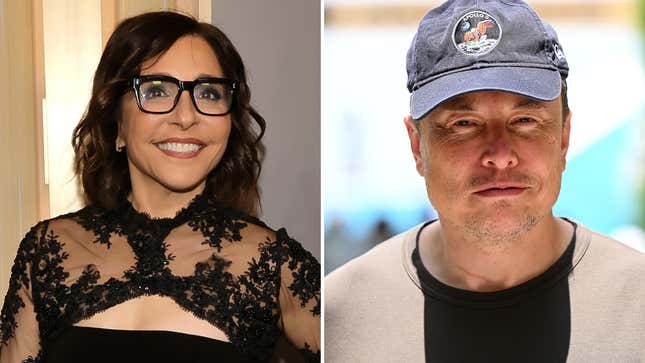 Linda Yaccarino, NBC Universal's chairman of global advertising and partnerships, will be the new Twitter CEO, Elon Musk—the sideways crying laughing emoji personified (derogatory)—tweeted on Friday. The Washington Post first reported the news, the day after Musk alluded to the personnel change in a cryptic tweet on Thursday.
Infamously Thin-Skinned Man Joins Twitter's Board
NBC Universal posted a press release on Friday morning confirming that Yaccarino has left the company, where she worked for 12 years.
Musk, unfortunately for anyone who wants a useable website, will continue to be involved in the company. "My role will transition to being exec chair & CTO, overseeing product, software & sysops," he said in his tweet.
Twitter's quality, both as a workplace and as a product, has plummeted under Musk. He took over in October; immediately, the site experienced an advertiser exodus, as well as a bloodletting of staff. (When he first took over, he specifically cut employees who had criticized him in the past.) Under his ownership, Twitter removed dead-naming and misgendering as speech that violates its anti-hate policy, and he also oversaw the verification fiasco that led to absolutely off-the-wall mistaken identities, including an Eli Lilly impersonator saying the drug company would make insulin free.
Yaccarino's appointment is intended "to calm advertiser fears while balancing Musk's demand for sweeping changes to Twitter's policies on content moderation," according to the Post.
Her own Twitter presence came under immediate scrutiny after the news broke on Friday morning. One organizer tweeted that Yaccarino follows a number of right-wing accounts, and when I did my own scrolling through her follower list, I found Charlie Kirk, Candace Owens, failed congressional candidate and ardent Trump supporter Christina Hagan, and Dinesh D'Souza. She was also a Donald Trump appointee, and was named to his presidential advisory committee in 2018. She has also worked with the Biden administration through her position with on the Ad Council.
Beyond likely continuing Musk's (and therefore, Twitter's) embrace of rightwingers, I'd be remiss if I didn't point out another concern I have with Yaccarino's hiring. Struggling companies bringing on a woman to make it all better is a known business phenomenon: It's called the glass cliff and seems to regularly set women executives up for failure—thereby making it seem like women are bad at business so they really shouldn't even be given the chance. And I must say, that exact thought process sounds very on brand for Musk. Oy. Exciting times at Twitter continue apace.