Stacey Dash (whom we absolutely loved in Clueless) will star in VH1's first-ever scripted series, Single Ladies. The premise sounds a little like Sex And The City — except, you know, with actual black people.
According to Vibe.com, Stacey plays a celebrity stylist who is experiencing autonomy for the first time. "My character is very similar to my own life because I've never been single," Stacey says. "Literally, since I've been 17 years old. She's never been married, the character than I'm playing, whereas I've been married three times, so that's the difference."
Audiences seem to enjoy shows like Sex And The City and Desperate Housewives, which feature the love lives of grown-up women (not teenagers). But beyond Real Housewives Of Atlanta, black women are rarely included in the hijinks.
LisaRaye McCoy, who has been in movies like The Players Club, The Wood, and shows like the CW's All Of Us, is also in the show, as is Lauren London.
LisaRaye says: "When Girlfriends got off the TV we didn't have anything else to relate to. This would be something else as a series so we can do more and be a little bit more risqué." And in case you're wondering, LisaRaye knows she has Carrie & Co. to thank: "[My character] doesn't have one of anything nor does she believe in having one man. She believes in dating and being able to explore her possibilities. She's much like Samantha of Sex in the City …She's the one that has that spunk, I'd like to say that she's the slut of the three." Equal opportunity promiscuity!
G/O Media may get a commission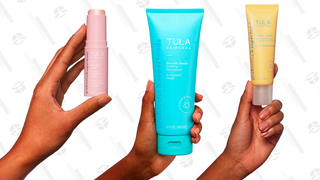 V Exclusive: Stacey Dash, LisaRaye, Lauren London To Star In Scripted VH1 Show [Vibe.com]