Sales of tabloid magazines have been floundering for quite some time, and Ok! was hemorrhaging money until it was sold this summer. So, how do you maximize profits at a time when we're saturated with celebrity gossip and people are buying fewer magazines in general? Create a brand new magazine that follows the petty, producer-instigated arguments and Walmart excursions of America's least talented stars!
Today the New York Times shocked us in a way that Us, In Touch, Star, Life & Style, and Ok!'s half-truths and blurry mistress pics fail to do on a weekly basis. The paper reports that in the first week of January, American Media Inc. will launch Reality Weekly, a new tabloid devoted entirely to reality TV. The magazine will cost less than the other tabloids at $1.79 an issue, and features the tag line, "Less money/More fun!"
The magazine will be edited by Richard Spencer, who was undoubtedly given the task due to his impressive ability to produce consistently disappointing issues of OK!, which he will continue to edit. (In addition, Spencer was formerly the editor of In Touch.) Spencer tells the Times that ostensibly unscripted television provides them with an "embarassment of riches" — emphasis on the embarassment. "Reality stars, you can't keep them away," Mr. Spencer says. "It's always 'Come to my wedding!' or 'I just redid my baby's room. Want to see it?' "
Actual stars tend to be litigious and value their privacy (when they haven't had their publicist leak a story), but reality stars' desperation should make Reality Weekly much cheaper to produce. The editors also plan to keep costs down by running TV screen grabs rather than licensed photos, and featuring copious amounts of pointless filler. According to the Times:
Features inside the magazine will include "Biggest Fights of the Week," a recap of the most intense, hair-pulling moments; "Hottest Shots of the Week," a roundup of the best bikini shots; and "Where Are They Now?" a primer on where reality stars of the past have landed. Victoria Gotti, daughter of John Gotti and onetime star of her own reality series called "Growing Up Gotti," will write a weekly column.
G/O Media may get a commission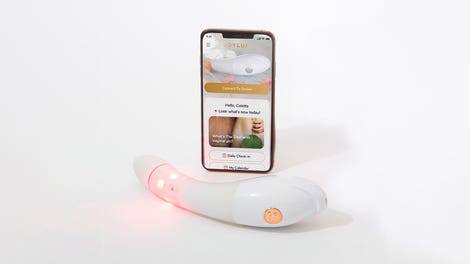 $50 Off
Joylux vFit Gold Device
The folks at Reality Weekly seem confident in their new business model, and while there is a high-demand for "reporting" on what Amber Portwood eats for lunch during the minutes of her life that don't make it onto Teen Mom, there is one small problem: This magazine already exists. In fact, there are five weekly tabloids reporting on reality stars' exploits, even if you don't count The National Enquirer and People. Ashton and Demi's divorce drama put bona fide movie stars on the tabloid covers for a short period this fall, but for the past few weeks three out of five tabloid covers have featured reality stars (or perhaps four out of five, depending how much credit you give Newlyweds: Nick and Jessica for soldifying Jessica Simpson's star status).
Perhaps we're overreacting. We'd like to say the creation of yet another magazine that devotes about a quarter of its pages to TV recaps phrased as if they contain actual reporting is a sign of the downfall of our society, but there are already multiple magazines devoted to soap operas. Reality Weekly may not be a sign of the apocalypse, but you'll know the end times are nigh once Jersey Shore Digest appears at the checkout line.