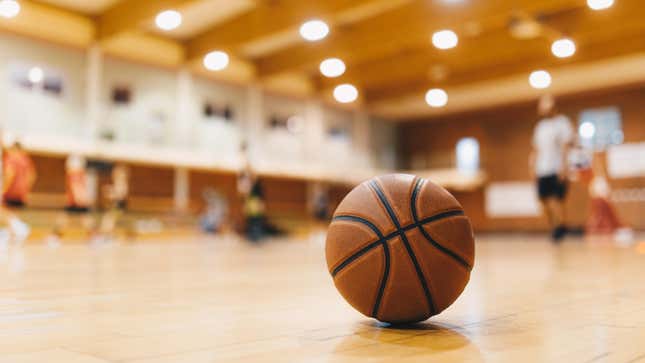 The New Mexico State University men's basketball season has been canceled after months-long sexual abuse allegedly perpetrated by and against the team's players became public. The police report, filed Friday, accuses three players of false imprisonment, harassment, and two counts of criminal sexual contact against their teammate.

The names of the players—both victim and alleged perpetrators—are redacted in the report, which was obtained by multiple news outlets. Coach Greg Heiar and the entire coaching staff are on paid leave, according to local media. (Read the entire report here, thanks to NBC affiliate KTSM.)
On Friday, a player on the team walked into the police station with an unknown person (their name is redacted on the report), wanting to make a report about a "possible assault," but wasn't interested in pursuing criminal charges. The player, a black man, told police he wants to remain anonymous. The player called it "hazing," but even the short narrative provided in the police report makes "hazing" seem like a tame word for what was happening in the basketball locker room. The latest incident allegedly occurred on Feb. 6, 2023, but the player described it as an ongoing issue in the teams's home and away locker rooms dating back to July or August 2022.
Let me pull out the two critical details of the man's report, detailing the alleged sexual assault:
"Three of the previously named players held him down with him facing down, removed his clothing exposing his buttocks and began to 'slap his ass.' He also went on to state that they also touched his scrotum."
To add to the assault allegations, the player accused the team of just not caring enough to intervene:
He stated that he had no choice but to let this happen because its a "3 on 1" type of situation. He advised that this conduct was usually done in front of the whole team and that no one intervened. there is also the possibility that there is another player who has been subjected to this type of misconduct."
By Sunday afternoon, the university cancelled the rest of the season. "It's time for this program to reset," university chancellor Dan Arvizu said in a statement to the Associated Press. Notably, this is not even the first time this season the team has come into contact with police: Mike Peake, one of the team's power forward, was suspended last December after he shot a player from a rival team in self defense; he was not charged with a crime. (One of the suspects pleaded guilty last month.)
I'm not sure how a program rebounds after a year like this, but not having to focus on basketball games seems like a good start.