Yesterday, President Obama signed into law a new appropriations bill that will let college and community health centers sell birth control at extremely low prices once again.
The price of birth control at family planning clinics and college health centers shot up following the passage of the Deficit Reduction Act of 2005, a federal law designed to save taxpayers money on Medicaid reimbursements for drugs reports U.S. News and World Report. The bill dissuaded drug companies from offering discounts to clinics, and for the past two years many women have been paying up to 10 times more each month for contraception.
Most clinics began offering cheaper generic versions of birth control pills, but there's no generic version of NuvaRing or the patch. Some colleges stopped offering hormonal contraceptives because they could not afford to keep a supply.
The "Affordable Birth Control Act," which was passed by the Senate earlier this week, was signed into law as part of the 2009 Omnibus Appropriations Bill. It allows pharmaceutical companies to offer the discounts again at no cost to taxpayers, but there's no guarantee that they will reduce their prices. When asked if it would cut prices, a spokeswoman for Schering-Plough, which makes NuvaRing, said, "We're looking into it. It's something we would definitely like to support." Even if companies do decide to offer discounts again, the cheaper birth control probably won't be available to students until next year because clinics still need to renegotiate their contracts with drug companies and sell off their old supplies.
Planned Parenthood issued a statement praising Congress for passing the bill, saying, "We applaud Congress for righting a wrong that has restricted access to basic but critical preventive health care services, and left millions of women at risk of unintended pregnancy." Planned Parenthood and several other women's health groups have been lobbying Congress to reverse the 2005 bill, organizing petition drives and meeting with members of Congress.
G/O Media may get a commission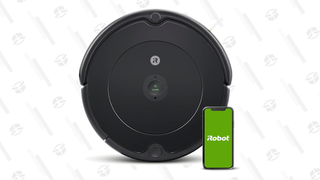 35% Off Black Friday Deal
iRobot Roomba 694 Robot Vacuum
As part of the campaign, Planned Parenthood organized a meeting between Senator Harry Reid and Nonie Wainwright, a University of Nevada graduate affected by the bill. Wainwright wrote a blog post last week about the meeting, saying, "It was a little intimidating to talk to a U.S. senator about birth control, but Sen. Reid was great." Wainwright explained that, in addition to preventing pregnancy, as a competitive swimmer, birth control helps her regulate her cycle and compete year round. In 2006 her monthly prescription went from $15 a month to $50. "I recall having to decide between paying for groceries or for birth control - decisions no male athlete would ever have to make," she said.
Cheap Birth Control (Once Again) For College Women [U.S. News And World Report]
Spending Bill Reduces Cost Of Birth Control Pills On Campus [U.S. News and World Report]
Planned Parenthood Press Release [Planned Parenthood]
Nonie Wainwright's Blog [RH Reality Check]