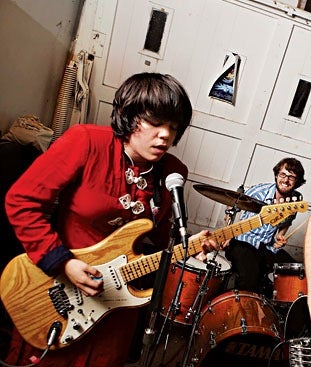 Meet Marissa Paternoster, lead singer of New Brunswick punk band Screaming Females. At 22-years-old and five feet tall, Paternoster is the leading figure in New Jersey's DIY punk revival.
Paternoster is the frontwoman to what has been called the biggest punk band in New Brunswick. New York Magazine explains that although this may sound like faint praise, New Brunswick has a long tradition of supporting local musicians, which stretches back to the early nineties.
Paternoster started Screaming Females in 2005, when she met drummer Jarrett Dougherty, 25, and bassist Mike Abbate, 19, both New Jersey natives. She is the musical focal point of the band, and has become famous for her tendency to break into loud, awesome solos. However, "the guitar solo is a dangerous thing to perform or even consider," she says. "It's such a dated, cheesy thing. It's hard to do it in a way that doesn't come off as corny."
In a recent interview with The Trip Wire, Paternoster joked about her shredding skills, which the interviewer believes may lead people to question her sexuality. In response to a question about whether she "wears her sexuality on [her] sleeve," Paternoster said:
Yeah, if I saw me, I'd say "Look at that lesbian shredding!" But you know, yeah you're right. I would automatically assume that any girl that shreds is a lesbian. I'm going to assume that Marnie Stern is a lesbian, and who else plays guitar? Yeah they're all lesbians. Don't write that down.
Screaming Females Lead New Brunswick's DIY Punk Movement [NY Magazine]
On The Cover - Screaming Females [The Trip Wire]