Where are all my Bloomsbury Group(ies)? A film chronicling the romance between Virginia Woolf—novelist, essayist, and foundational feminist thinker—and fellow author Vita Sackville-West is in the works.
Deadline reports that British director Chanya Button (Burn, Burn, Burn) has acquired Dame Eileen Atkins' script "Vita and Virginia," which recounts the women's vivid love affair. Evangelo Kioussis of Mirror Productions and Katie Holly of Blinder Films will co-produce what is sure to be the sapphic masterpiece of every literary-inclined lady's dreams.
But in the meantime, Woolf and Sackville-West have left a glorious paper trail offering us a glimpse of their romance. Woolf wrote the deliciously bonkers Orlando, published in 1928, as a faux-biographical tribute to her lover. It's a wild gender- and temporal-bending romp in which desired persons are compared to pineapples. (There is also a film adaptation starring—who else?—Tilda Swinton.)
Woolf and Sackville-West also composed and exchanged over 500 letters, collected in The Letters of Vita-Sackville West to Virginia Woolf. Cumulatively they are a master class in the art of the love letter. Here's a taste, compliments of Sackville-West:
"I am reduced to a thing that wants Virginia. I composed a beautiful letter to you in the sleepless nightmare hours of the night, and it has all gone. I just miss you, in a quite simple desperate human way. You, with all your un-dumb letters, would never write so elementary a phrase as that; perhaps you wouldn't even feel it. And yet I believe you'll be sensible of a little gap."
Although both women were published writers—Sackville-West tremendously prolific—Woolf's work emerged in the early twentieth-century as something unparalled: revolutionary, exquisitely sensitive, conveying empathy in both letter and form. Sackville-West's letter makes manifest her awareness of this disparity. And, well, does she sound a bit bitter to you?
Finally, if you're really keen to immerse yourself in the intimate history of these two women, you can take a look at Suzanne Raitt's Vita and Virginia: The Work and Friendship of V. Sackville West and Virginia Woolf (full disclosure, Raitt was a beloved professor of mine at the College of William and Mary; nonetheless, I can attest to her being an expert on this subject). Trish Bendix over at After Ellen offers other, excellent suggestions of things to watch and read in preparation for the forthcoming film.
G/O Media may get a commission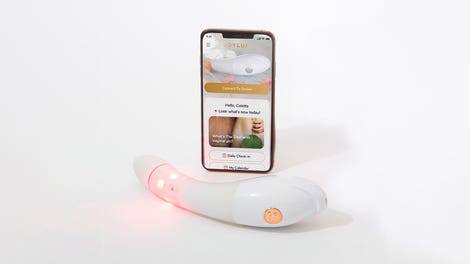 $50 Off
Joylux vFit Gold Device
Now, alas, we must all "be sensible of a little gap" until this film comes to fruition. Perhaps we can assemble our dream cast in the meantime.
---
Image via Getty. Video via YouTube.