It's been a week since a horrific report was released detailing the systematic child sexual abuse of approximately 1400 girls in Rotherham, England, between 1997 and 2013. The damning report, investigated by Professor Alexis Jay OBE, highlighted the failure of community leaders, council leaders, and of course police to protect these underage victims, as young as 11. And now, South Yorkshire police have announced the launch of an investigation into the matter.
In a statement, Chief Constable David Crompton said:
"A fully independent and impartial investigation is required to ensure that people have confidence that organisations or any individuals will be investigated fairly, rigorously and with complete impartiality.

"The investigation will properly and independently examine the role of both the police and council during the period identified and address any wrongdoings or failings, which will allow the appropriate action to be taken.

"We must give victims the confidence to come forward in the knowledge that all agencies will listen, will act, provide appropriate support, and relentlessly pursue those who offend against our young people."
Jay's report addressed a slew of issues ranging from the abuse itself, to potential police complicity, to ethnicity, as the abusers were of Pakistani heritage while all of the victims were white girls. Some officers stated that they were expressly told not to address ethnicity for fear of being perceived as racist. Not that any air of racial sensitivity will excuse complicity in over a decade of mass child sexual exploitation.
In light of the report four members of the Rotherham Metropolitan Borough Council have been suspended, including the leader Roger Stone, who has resigned. Jahangir Akhtar, deputy leader and vice-chair of the police and crime panel (and one of the four suspended) also stepped down when it was reported he was aware of the relationship between one of the victims and her abuser, "as a matter of courtesy."
G/O Media may get a commission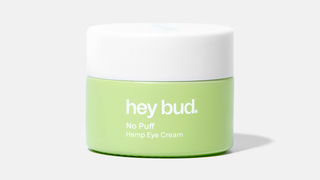 15% off
Hey Bud - No Puff Hemp Eye Cream
South Yorkshire's police and crime commissioner and cabinet member for children and young people's services Shaun Wright has refused to step down as commissioner until 2016, though he did resign from the Labour Party. He stated that he has "taken that experience to deliver a major transformation in the way South Yorkshire police deals with horrific crimes such as child sexual exploitation."
The New York Times spoke with Lucy, one of the victims (now 25) who detailed some of the appalling sexual abuse she underwent starting from age 13. She attempted to alert the police to her abuse multiple times, but police either outright ignored her or put the responsibility for her grooming and rape on her shoulders—a prevalent treatment of the victims who did step forward.
But Ms. Jay said that for years there was an undeniable culture of institutional sexism. Her investigation heard that police referred to victims as "tarts" and to the girls' abuse as a "lifestyle choice."

In the minutes of a meeting about a girl who had been raped by five men, a police detective refused to put her into the sexual abuse category, saying he knew she had been "100 percent consensual." She was 12.
During an interview at her home outside Rotherham, [Lucy] recalled being questioned about her abuse by police officers who repeatedly referred to the main rapist as her "boyfriend."
Another victim, "Isabel" told BBC of her abuser:
"I think because the police were aware and social services were aware and he knew that and they still didn't stop him it I think it encouraged him.

"It almost became like a game to him. He was untouchable."
While the South Yorkshire Police's investigation is a necessary move, and one that will hopefully create a safe atmosphere for more victims to come forward, breaking apart this matrix of power rooted in the eschewing of responsibility, the disregard of child safety, and pervasive victim blaming is the very least they could do.
Image of Getty.