New details have come to light about the 12 male sailors aboard Navy submarine the U.S.S. Wyoming who were implicated for involvement in the secret filming of their naked female shipmates late last year.
Through the Freedom of Information Act, the Navy Times received a report that "provides new details on how the ring allegedly filmed women with cellphones through a hole between spaces and then shared them without detection for months. Investigators with Naval Criminal Investigative Service and the Kings Bay, Georgia-based Submarine Squadron 20 interviewed more than 300 people and included statements from the 12 original suspects."
According to the Navy Times:
The filming had gone on for nearly a year, investigators would come to learn, with videos of up to four of the women assigned to the boat as well as midshipmen on cruise during two patrols with Wyoming, from August to November 2013 and March to June 2014. Three sailors filmed the women and distributed the short recordings; two admitted their guilt and one was implicated by another sailor.
As previously reported, Missile Technician 2nd Class Charles Greaves, Missile Technician 2nd Class Ryan Secrest and Missile Technician 3rd Class Cody Shoemaker all pled guilty to "secretly filming and sharing videos of female shipmates." Greaves, the ringleader who referred to filming naked women as "capturing Pokemons," was sentenced to two years in prison and received a dishonorable discharge.
Ultimately:
[William] Houston, the SUBRON 20 boss, recommended seven sailors for Article 32, one for nonjudicial punishment, a command transfer for the exonerated MT1 and that two other sailors' cases be forwarded to their new skippers at Trident Training Facility Kings Bay and the ballistic missile sub Michigan in Bangor, Washington.

In the end, 10 sailors faced punishment, ranging from dishonorable discharge and prison time to reduction in rank and pay forfeiture at captain's mast.
G/O Media may get a commission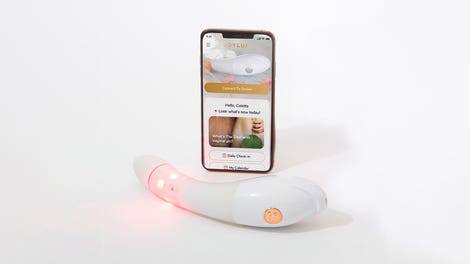 $50 Off
Joylux vFit Gold Device
Asked why he didn't report the videos, ring member Missile Technician 3rd Class Brandon McGarity blamed peer pressure.
"I was still somewhat new to the division and so I didn't want to say anything because the higher ranking MTs would always treat the lower ranks like trash and would always try to put them down," McGarity told investigators. "So I didn't want to worsen my life more than it already was, so I tried to ignore it and stay out of it for fear of being disowned by the division."
SUBRON 20 boss William Houston, however, does not think that filming ring is indicative of larger problems aboard the submarine or in the Navy at large.
"The abhorrent behavior of this small number of personnel is not indicative of the superior sailors that comprise these crews and the submarine force," he wrote in an endorsement letter. "...This was a deliberate criminal activity taken by a handful of sailors and I find no indication that the leadership environment of either command was culpable in creating an environment that contributed to this insidious incident."
The fact that rumors and invasive videos of naked female crew members had to spread to an entirely separate submarine before being reported might suggest otherwise.
---
Contact the author at madeleine@jezebel.com.
Image via Getty.