Here we go again again again. Extensive, misogynist audio of self-described pussy-grabber Donald Trump has surfaced, and America continues to listen to his dumb voice dribbling putrid anecdotes about the sex he wants to have, can't have, did have, and wouldn't deign to have with a woman over the age of 35.

CNN's KFile reviewed hours of newly uncovered interviews, 17 years worth, between Howard Stern and Donald Trump, and released some choice clips on Saturday. The presidential nominee and the radio host are just as contemptuous of women as you might have expected if you've ever heard either of them speak before.
The clips that will no doubt receive the most attention are those in which Trump, yet again, comes across a man who would really like to have sex with his eldest daughter. In October 2006, Trump commented on Ivanka's bosom, responding to Stern's provocation of, "[Ivanka] looks more voluptuous than ever," with, "She's actually always been very voluptuous."

In an interview from September 2004, Stern asks Trump if he may call Ivanka, "a piece of ass," and Trump replies that "yeah," he can. Trump was probably just relieved that someone other than himself was saying it.
G/O Media may get a commission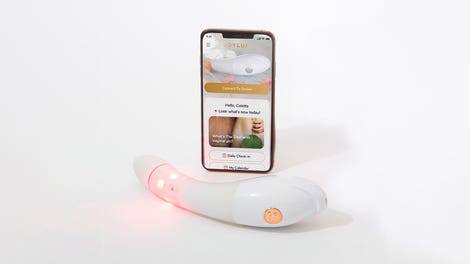 $50 Off
Joylux vFit Gold Device
Here are some more highlights:
On beauty
In April 2005, Trump gave this pervy monologue about "inspecting" contestants in his beauty pageants like merchandise:
"Well, I'll tell you the funniest is that before a show, I'll go backstage and everyone's getting dressed, and everything else, and you know, no men are anywhere, and I'm allowed to go in because I'm the owner of the pageant and therefore I'm inspecting it. You know, I'm inspecting because I want to make sure that everything is good. You know, the dresses. 'Is everyone okay?' You know, they're standing there with no clothes. 'Is everybody okay?' And you see these incredible looking women, and so, I sort of get away with things like that."
On age
Trump told Stern in a 2002 appearance that he would not be with a woman over the age of 35, calling it "check-out time."
Stern also asked Trump in 2006, "Do you think you could now be banging 24-year-olds."
"Oh, absolutely," replied Trump. In fact, slice that number in half. Stern followed up by asking if Trump has an age limit. Trump said he does, of course, "12-year-olds."
And while we're on the subject of numbers, Trump bragged to Stern in 2008 that he'd had some sort of orgy, possibly including his wife Melania, where he'd slept with three women collectively weighing 375 pounds. "I figure 125 a piece," says Trump, as if they were fuckable sides of meat.
On cheating
In a 1993 discussion of marital infidelity, Trump told Stern, "I was actually faithful to my wife for many years, until I realized the marriage wasn't gonna work."
In that same interview, Trump compares his ex-wife Ivana's accent to "Chinese torture." So, there you have it folks, Trump has hated women, immigrants, and China since at least the early 90s.