In Rick Perry's Texas, the first rule of women's health is that we don't talk about women's health. The second rule of women's health is UGH FINE, we can talk about women's health, but only if we don't mention that abortion exists. At least, that's according to government documents that outline how the state will dole out money for its women's health program. Doctors and health care facilities will be completely ineligible for funds if they so much as imply that it's possible for a woman who is pregnant to end her pregnancy by obtaining a legal abortion. The third rule of women's health is make me a sandwich.
Back in March, Texas lawmakers' attempt to "defund Planned Parenthood" by singling it out in its Women's Health Program budget was stymied when the federal government responded by blocking all $39 million in federal funds from the program. Governor Rick Perry vowed that the program would continue, but on Texas's terms (the state, already in fiscal trouble, only contributed $1 for every $9 the feds chipped in). According to Think Progress, those new terms involve only funding entities that treat abortion like a horror movie villain that appears when you say its name too many times. Like the Candyman.
The state's Attorney General explained in a letter that the new, improved, 41% shinier Texas Women's Health Program will not only exclude abortion providers and affiliates, it will also exclude abortion promoters and affiliates of organizations that promote abortion. Per the letter,
outside the scope of TWHP, the provider does not perform or promote elective abortions and does not affiliate with an entity that performs or promotes elective abortions; and (2) within the scope of TWHP, the provider does not promote elective abortions, is physically separated from any abortion-providing or abortion-promoting entity, and does not operate under an identification mark that is registered to an entity thatperforms or promotes elective abortions.
What does "promote abortions" mean? Medical scrubs that say "child-free's the way to be?" Several thousands of credit card rewards points redeemable for airline miles if you have an abortion on an off-peak weekday? Posters everywhere for The Terminator? Unfortunately, no. By the definition of the Texas Department of Health and Human Services, "promoting" abortion means to simply mention it as an option for women. That's promoting it!
Sort of like how telling Michele Bachmann's children that homosexuality exists will turn them all gay. Mom! I had the greatest idea in school today! It never occurred to me before!
G/O Media may get a commission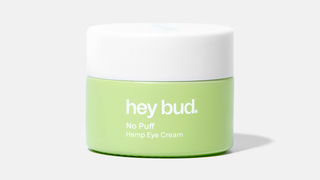 15% off
Hey Bud - No Puff Hemp Eye Cream
Rick Perry and company are having a banner week when it comes to women's health. Earlier this week, he made that crysmile face of his and let the world know that Texas would reject the federal government's Medicaid expansion, which will make it even more difficult for low income women in the state to receive medical care.
The fourth rule of women's health in Texas is fuck you.
Image by Jim Cooke, source photo via Gelpi/Shutterstock.