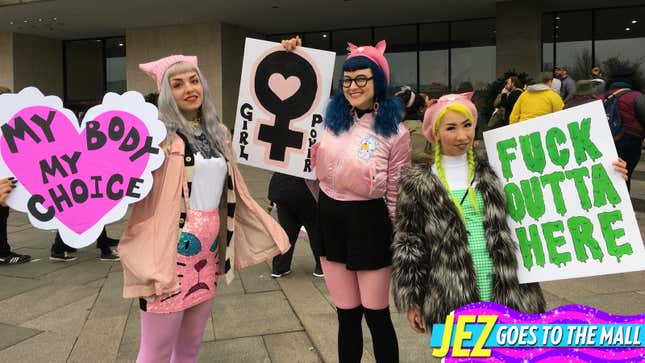 After spending all day Friday surrounded by people celebrating the inauguration of Donald Trump, nothing was more needed (by the Jezebel staff included) than today's Women's March on Washington. The marchers were thoughtful, their spirits were high, and it was just the right balm to soothe our broken (now mended) hearts.

Here are some of our favorite, most funny, and poignant protest signs from the day: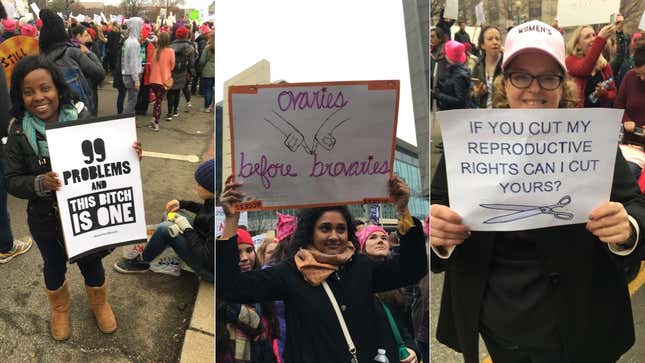 Left to right: A protester is ready to become one of Donald Trump's problems, a pithy reminder to protect your sisters' reproductive rights, and a warning of what will happen to men who infringe on their reproductive freedom. Snip snip!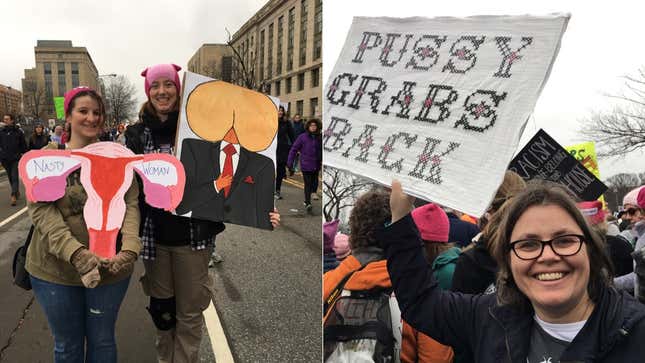 Intricate and brilliant signs abound! The woman in the photo on the right spent days cross-stitching her "PUSSY GRABS BACK" message and is rightfully proud.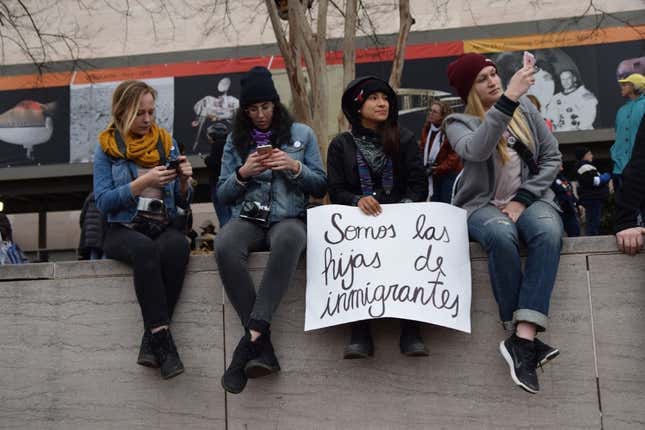 "Somos las hijas de inmigrantes" or "We are the daughters of immigrants," says one Chicago Bulls fan.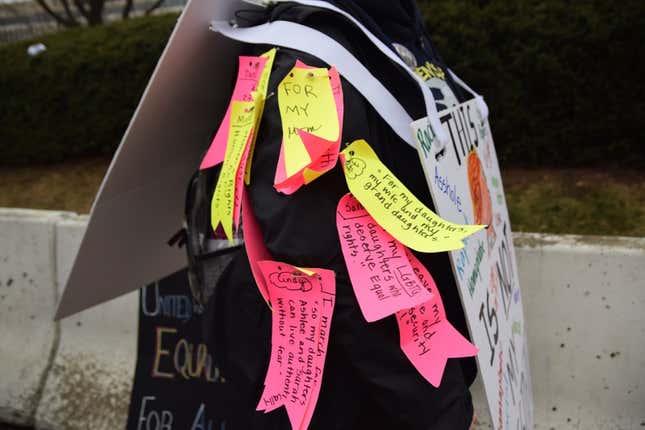 Tag your friends.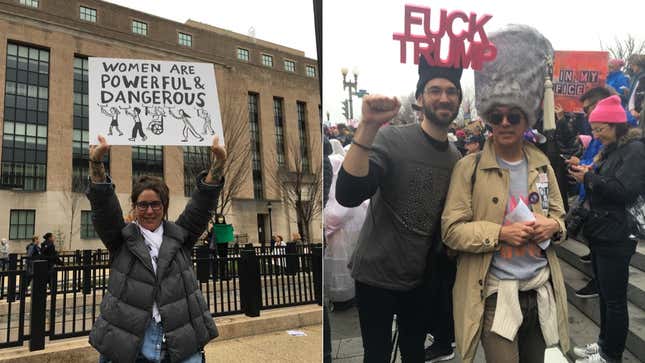 TRUE AND TRUE.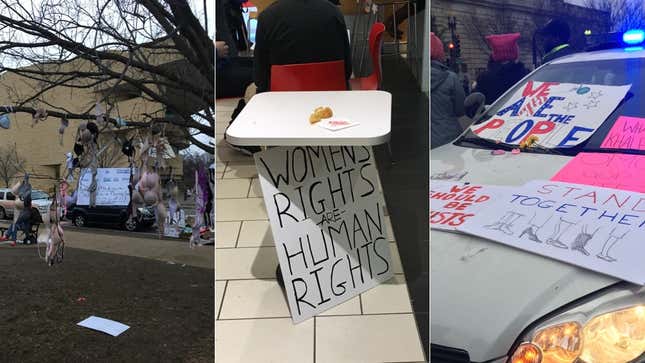 Inanimate! Objects! Support! Women!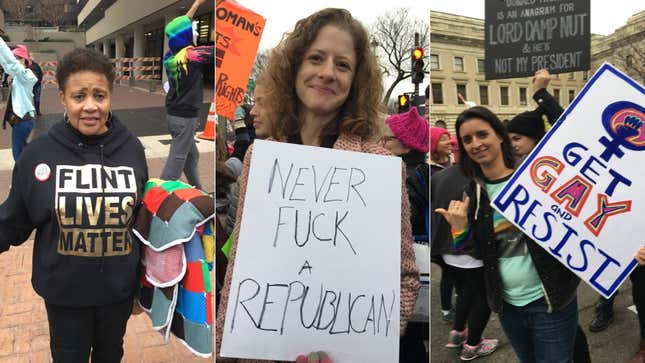 A clean water activist comes all the way from Flint, a warning that Republicans are not worth your sexual healing, and a very fun way to resist.
BONUS: A sign I accidentally photographed that read "Donald Trump is an anagram for Lord Damp Nut and he is not my president."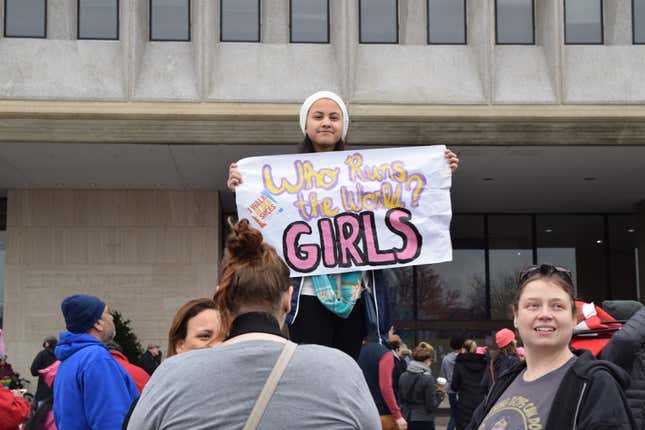 Not yet, but we should...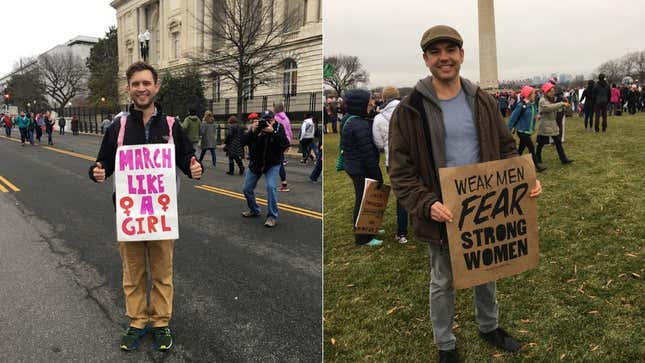 Smart men who know their place.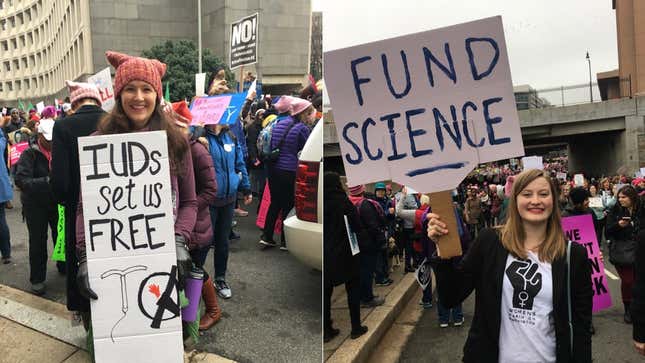 IUDs set us free and should be free.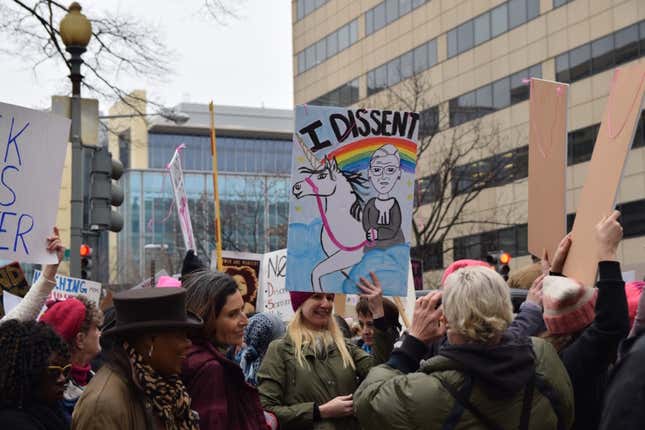 Nice of Ruth Bader Ginsburg to show up on her unicorn.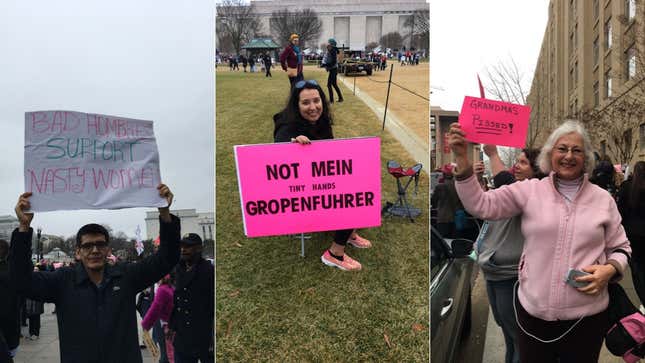 A theory from Julianne Escobedo Shepherd: Protest signs have gotten better because of Twitter. Discuss.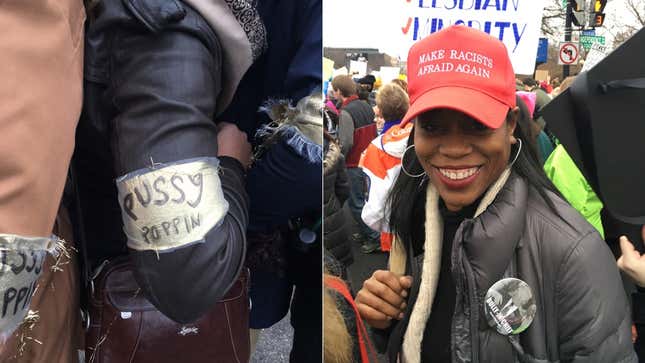 Good accessories on good women.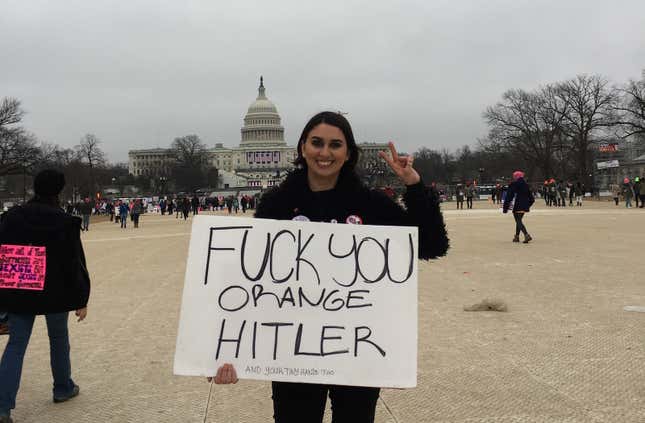 A glorious display of patriotism. A glorious sign calling Trump "Orange Hitler" and insulting his tiny hands.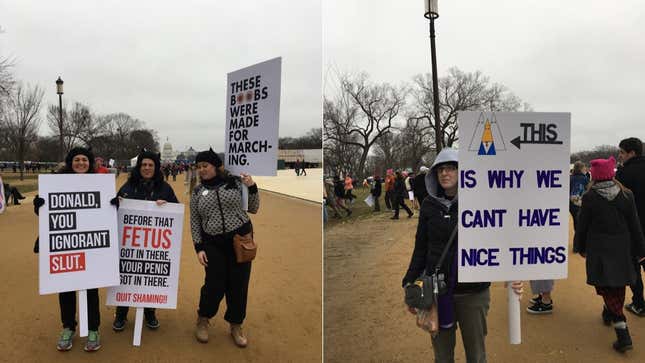 A modern slogan for the pro-choice woman: "Before that fetus got in there, your penis got in there."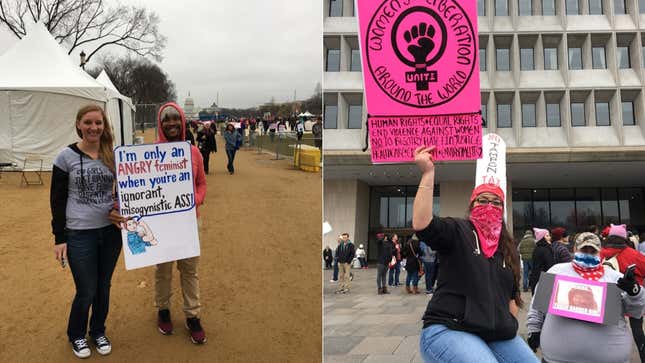 A couple of cheerfully angry feminists and a woman with a tampon hat—to protest the tampon tax.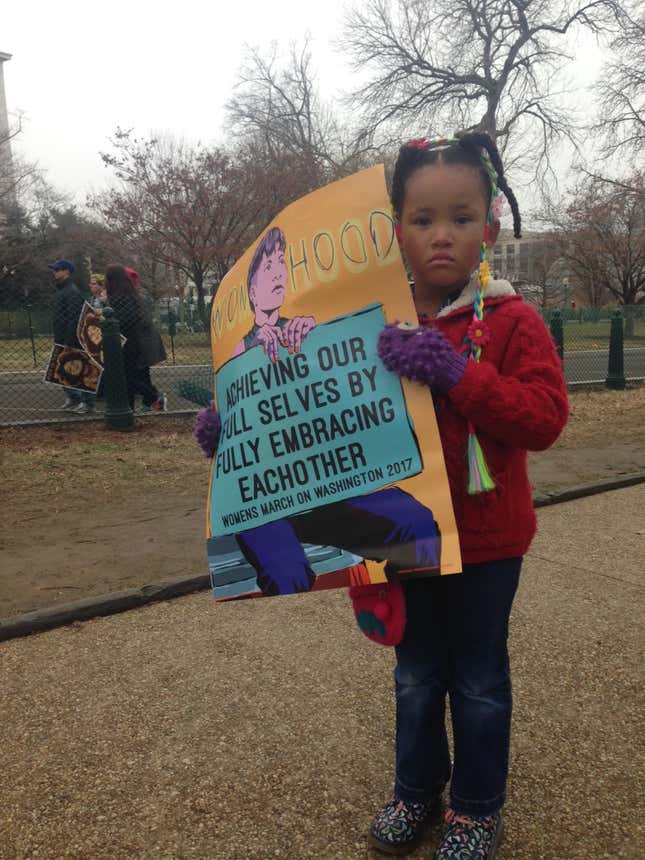 One of the march's cutest protesters.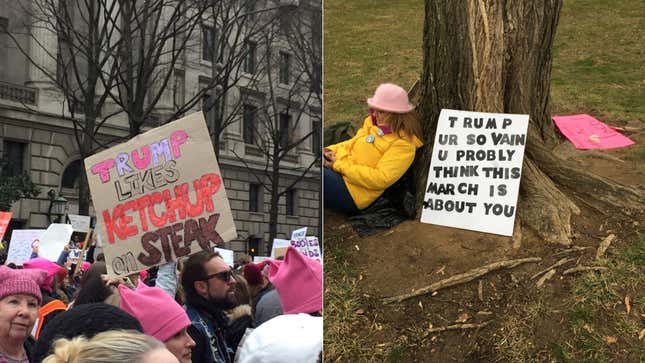 Desecrating steak and making Carly Simon proud.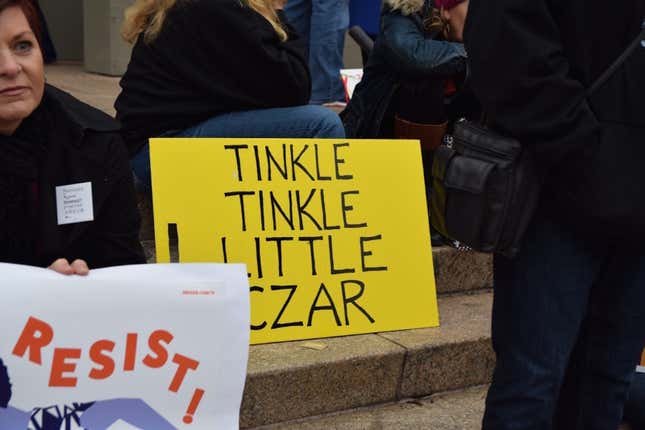 If you like pee-rfect word play, urine luck.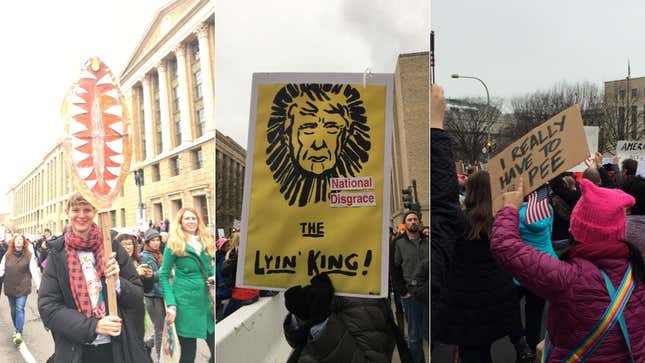 Next time Trump tries to grab a pussy, he'll hopefully encounter vagina dentata; this Broadway show that's gonna be YUGE; an honest woman voicing our needs (because toilets were scarce).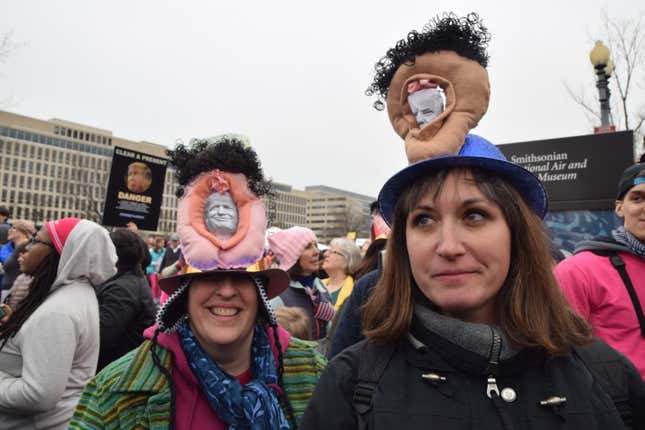 Two women push "pussy hats" to a new extreme.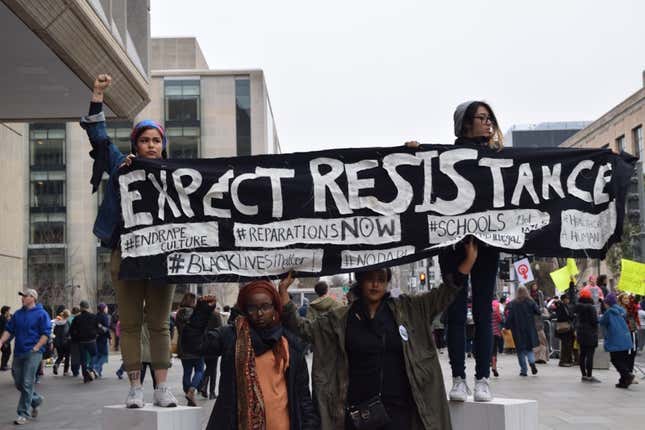 Resist every day.
To those who marched: Thank you and don't stop fighting.