A sense of mortality permeates Neneh Cherry's new album, Broken Politics. "It seems sick to me now/It's funny how fragile is a life/That can have everything now to nothing left at all/Amounts to little pieces," she sings on "Deep Vein Thrombosis," a lilting song about blood clots. In language so intimate as to be oblique—like she's catching you up on an event you've already been following closely—Cherry tells stories that braid melancholy reflections of life experience with social commentary. Subjects like freedom of choice ("Black Monday") and the European refugee crisis ("Kong") sit alongside songs that illustrate feelings of waning self-confidence ("Natural Skin Deep") and defeat ("Fallen Leaves"). Balancing out the heaviness of songs written by Cherry and her husband slash "creative… dialogue person" Cameron McVey is producer Four Tet (aka Kieran Hebden), who cushions Cherry's vocals with the lush sounds of harps, flutes, and warm keyboards, and sometimes gives her step a pep with looped beats.
It's a collection as multivalent as we've come to expect from Cherry, whose breakthrough smash "Buffalo Stance," mixed rapping and singing, dance music and balladry, a sense of self-worth and calling out shitty men (in that case, a thirsty pimp). Almost 30 years after her solo debut, 1989's Raw Like Sushi, Cherry, now 54, continues to confound expectations. Broken Politics is her fifth solo album, and perhaps her strongest and most sophisticated—every bit as vivid, sensitive, and forward-thinking as Joni Mitchell was in the mid-'70s (though decidedly less verbose). Broken Politics quietly expands the concept of what a singer-songwriter album looks like in 2018, and the results are almost uniformly arresting. This is, in my opinion, one of the best albums released this year in any genre or mode.
I spoke to Cherry over Skype on Tuesday, the day after she returned to London from Sierra Leone, where she buried her father, musician Ahmadu Jah, in his home village. She sounded slightly weary but remained matter of fact as she recalled attending the Islamic service for her father. Sitting in a curtained-off women's section of the mosque, she said, did not bother her. "I just felt more that I was there and it was a tradition and I felt, in a way, very respectful of the way that particular thing is done," she explained.
"I felt so honored to be a woman, I was so in awe of the women there," she said of her time in Sierra Leone. "Of course, there are elements of life there that are hard that I don't want to undermine, but a lot of Western ideas that women are so oppressed and it's so awful and sexist—and there are aspects that are maybe of another time—but in general, what I felt more than anything was the strength and the beauty and this fascination with the female community. The women are very together and kind of running things."
G/O Media may get a commission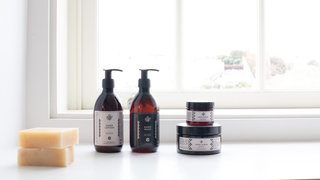 Exfoliate and Hydrate
The Handmade Soap Company
We went on to discuss her state of mind on Broken Politics, the magic of collaboration, aging in the music industry, and how creative life changes after one's peak on the pop charts. An edited and condensed transcript of our discussion is below.
---
JEZEBEL: You've been talking about imbalances and shitty men from the start, before a lot of people were doing so in pop music. When you see the current mainstream conversations about equality, do you ever look back and think, "Wow, I was really prescient"?
NENEH CHERRY: I don't think I ever felt like a fire-starter. I don't think I'm leading a posse with my insights. I feel privileged to come up in a place where there was no question [of me] standing up against a wall at a dance, waiting to be asked to dance. I was always going to take my shoes off and hit the dance floor and try to engage with people, men and women. That's just a metaphor.
I've been really inspired by my trip to Africa as a teen. I came out with a really strong sense of feeling… I don't want to say "confident" because on some levels I've lacked a lot of confidence, but that driving force behind confidence, that search for freedom or breaking away from stereotypes and perceptions of how a young woman should be. I feel blessed to have been [able to adopt] a way of living where you're looking to throw off things that are imprisoning you. It's like searching for a type of freedom, even though that feeling is sometimes temporary. It's about figuring out how to live things by your own rules in the little space that you occupy.
How does that ethos carry over to this album, Broken Politics?
The way I'm working right now, it feels quite natural. I feel quite free within the space that I'm embodying. The whole journey has brought me to this place, where I'm standing. The sound and the feeling has come from the life around us that we're in, the world that we're in right now.
How do you feel about the world right now?
It's difficult. It's a quite dark time. It's hard to not draw from the things that are happening, but even though I feel anger, sorrow, and sadness, I'm also compelled to have some positivity. It's important to react back in the other direction. There has to be change, and I have to have hope, otherwise I can't get up. The songs then have to come back to a personal place. Hopefully, the songs don't come across as pompous or even reaching a place of solution. They're stories to me that are of the climate that is around us.
How much of the sonic shaping are you doing? You don't have a production credit on this album.

The reason I value the relationship so much with Kieran is his insight sonically feels so spot-on. I feel like he can see the things I'm feeling and bring them out. So Cameron McVey—my husband and creative… dialogue person—we make the songs. Some of them I just sent [to Kieran] as vocal takes with no music, and some of them we sent with other stuff, kind of demos. But I think Kieran knew what he wanted to do, and I was there and I took part in the sound as he was making them. If I felt, "Oh I don't like that," we would have reworked it, but I think he just hit the nail on the head. In a way, that's what's so beautiful about the magic of collaboration. It's a fragile thing. I bring my bits and Kieran does his thing, but you're kind of gently pushing each other with these ideas. In a way, Kieran had the key to the door, and then we sort of opened it together.
This is such a strong record, almost 30 years after your debut. What relationship do you have to notions of peaking and the supposed corrosive effect getting older has on creativity?
I think the beauty of getting older is that as you're getting older, in theory you should start becoming less affected by all of the bullshit things that pull at you when you're younger. I'm losing certain aspects of funny things about youth—and it's not that I don't feel youthful—but embracing this thing and trying to nurture the kind of richness you get in theory from having lived a bit longer.
I guess I've always been prone to being a rebel. All those [isms: ageism, sexism, racism] make me want to start a riot. It's like, why can't you celebrate that you've got some notches on your fucking belt? I've tread this far to disrespect it? No. I'm trying to be better at respecting the journey and myself. As I'm passing though my womanhood into menopause—and of course, there was a sense as I ended my period not that long ago of this sadness, in a way. There was a bit of me that wanted to be like, "Okay! I've done that! It's over!" but then to be like, "No, you know I'm gaining something as I'm losing something."
What I dreamt of when I was younger was that I would be in my prime as I'm getting older, as long as I have my fucking marbles and can remember my lyrics. I do take my lyrics onstage 'cause… you know, whatever. But I feel in a way that maybe that's something that I like, that I have ahead of me. That maybe I'm going toward my best times creatively, in a way. My strongest bit of my journey, because I have all the other stuff with me.
Is it hard to negotiate creative freedom with letting go of bullshit in an industry that's so full of bullshit, and is often cited as ageist in terms of who's allowed to have hits and who isn't?
One of the things I've been doing since [1996's] Man was doing a shift to the left, away from the mainstream. I think there's a lot of great music in the mainstream as well as a lot of shit. That pace, I've done that. And it was amazing. I never expected Raw Like Sushi to do as well as it did.
But I think the thing we're talking about, the journey, I had to come off to the left where there's more space to breathe and to change your clothes for different sizes to fit. I've tried to remove the way I think or that worry of units, but you know, I want to sell records. I definitely need to make some money over the next few years because I've basically sponsored all of the recordings myself. I need to fill my pockets a little bit, and I hope to do that through the music. I give thanks that so far, that's how I've made my living. I'm dependent on things going in a certain direction, but it's not why I do what I do. Whoever wants to buy it and come to the gigs, as long as I can keep moving and doing stuff, I'm happy.
Is it hard to relinquish the power that comes along with being able to speak to the masses, as you did in the late '80s and early '90s?
I mean, it's great when you've got a hit record and you walk into a room and everyone's like, "Whoa, yeah, great!" It's a buzz, but that was not ever really the motivation. It came with the ride when the ride was riding high. I was kind of loving it, but I was also slightly appalled by it. I worked with amazing people like [iconic stylist] Judy Blame. I think we just did it in a tongue-in-cheek way. I was like, "I'm never going to completely sell out to this thing because it's temporary." As much as the buzz is great when everybody wants you, I was like, "This is not the sound of my life."
I feel very blessed in a way, because even when I wasn't at the top of the pops, metaphorically, I always felt like I could get enough attention—more than I ever expected, because there's always someone that wants to come and say, "I loved 'Manchild,' or '7 Seconds." They're appreciative and that's fine. I'm good with that. I never made millions or anything, but during those years of that success, I made enough money to be able to choose to live my life in a fairly generous way. If I have friends who need money, I've helped. I've traveled, I've moved, I've lived in different countries. I'm conscious of how blessed I am.