Nelson Mandela was no stranger to strength or love and maybe that's why many of his romantic choices reflected both of these qualities. Also, the man had swag — his proposal to Winnie Madikizela-Mandela (above) alone should be dispersed in pamphlet form at college political rallies. As the world celebrates the life of such a great man, here's a look back at the amazing women who helped make it all possible.
1. Evelyn Mase
Evelyn Mase was Mandela's first wife, whom he married after escaping an arranged marriage in his rural hometown. He was 26 and pursuing a law degree; she was 22 and a nurse who supported their four children and her husband's career aspirations, according to the BBC. Their 13-year marriage soured after one of their young children died, and Mase became more religious while Mandela became more political.
"I think I loved him the first time I saw him," she is quoted as saying in Higher Than Hope, a biography of Mr Mandela that came out in 1990 when he was released from prison.

"Within days of our first meeting we were going steady and within months he proposed."
2. Winnie Madikizela-Mandela
Winnie Madikizela-Mandela is perhaps Mandela's most well-known wife. The couple married just before he was imprisoned, had two children and became iconic in the South African anti-apartheid movement. While Mandela was behind bars until 1990, Madikizela-Mandela carried on his cause with the African National Congress and despite facing disciplinary action from the government herself, she did not waiver. But most importantly, Mandela hollered at Winnie with such confidence while they were courting that I couldn't even make this up.
"One day Nelson just pulled up on the side of the road and said: 'You know, there is a woman who is a dressmaker, you must go and see her, she is going to make your wedding gown. How many bridesmaids would you like to have?'

"That's how I was told I was getting married to him! It was not put arrogantly; it was just something that was taken for granted. I just asked: 'What time?'"
G/O Media may get a commission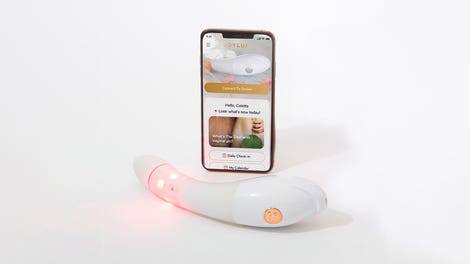 $50 Off
Joylux vFit Gold Device
Mandela later admitted Madikizela-Mandela had found another lover during their marriage and the pair divorced before Mandela became President of South Africa in 1994.
3. Amina Cachalia
After divorcing Madikizela-Mandela, Mandela fell in love with Indian anti-apartheid and women's rights activist Amina Cachalia. Only this time, as the International Business Times reports Cachalia wrote in her book, Mandela didn't get the answer he was expecting — the two never married.
"On one of these visits I must have been looking rather flustered as I bustled about doing my chores," she wrote. "[Mandela] sat me down on the two-seater couch in the living room and kissed me passionately. Running his fingers through my hair he said: 'Do you know that you are an exceptionally beautiful, vivacious and enticing young lady?'

I hollered at him. He looked very worried and wanted to know what was so wrong with what he had said. I replied gently: 'I'm not a young lady; I am a middle-aged woman.'

"He looked relieved and said: 'Okay let's begin again.' Then he repeated the string of adjectives, substituting 'old' for 'young' lady. I screamed again and said that I was not an old lady either," she added.
Cachalia passed away in January 2013.
4. Graça Machel
Unlike Mandela's previous wives, Graça Machel already knew of life beside a political icon. In addition to being Mandela's third wife, she is the widow of Samora Machel, the Mozambican independence leader and president, who was killed in a plane crash in 1986 that was rumored to have been orchestrated by the South African apartheid government. Mandela and Machel, a humanitarian and activist in her own right, were married on Madiba's 80th birthday and remained together until his death on December 5, 2013.
"It's just wonderful that finally we have found each other and can share a life together," Mr Mandela's biographer Anthony Sampson quoted her as saying two years before their marriage.

"He can love very deeply, but he tries to control it very well in his public appearance," she told the author.

"In private he can allow himself to be a human being. He likes people to know he is happy."
Mandela even joked about Machel's strong personality to a friend, reports the New Yorker.
At the end of the wedding ceremony, after the "I do's" and wild congratulations, she announced that she would keep the surname Machel. Mandela, asked how he felt about this, replied, "I'm glad she didn't want me to take her name."
Image via AP