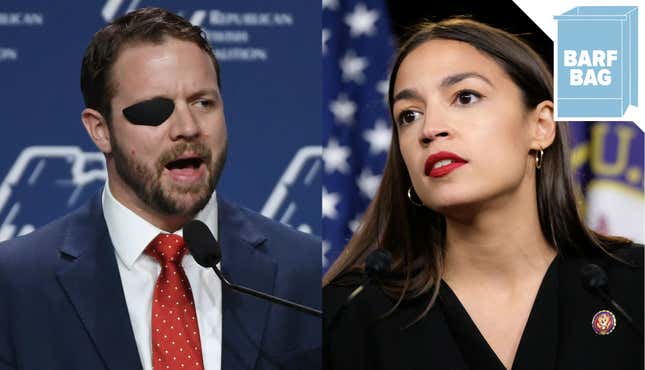 Thank you for being a friend.
Here's all the shit we couldn't cover today:
In case you missed it: There was some bad lending-guns-to-your-friends discourse on Twitter on Wednesday. First, Republican Congressman Dan Crenshaw got into an argument with Congresswoman Alexandria Ocasio-Cortez after she responded with alarm to Crenshaw's suggestion that requiring background checks for gun purchases puts more people in danger. "With universal background checks, I wouldn't be able to let my friends borrow my handgun when they travel alone," Crenshaw said. And then this happened:
Olivia Holt Didn't Originally Get the Part of Roxie Hart in 'Chicago'
Hong Kong's leader announced that she will withdraw the extradition bill that prompted the protests that dominated the region this summer, which would have been even better news a few months ago. [New York Times]
The Trump administration is raiding military construction projects to build the president's fantasy border wall. The military isn't happy about it! [Politico]
Here's Elizabeth Warren's climate plan (it looks a lot like Jay Inslee's)! [New York Times]
A North Carolina court ruled that the state's gerrymandering is unconstitutional and that districts must be redrawn—a win for voting-rights advocates. [Washington Post]
Uh, so the State Department reportedly offered millions of dollars to the captain of an Iranian oil tanker and tried to get him to divert the ship to a country where the United States could seize the ship. Wild shit. [Financial Times]
Stormy Daniels says she's ready to testify under oath, baby! [NBC News]
Um!
Here are some tweets the president was allowed to publish:
This has been Barf Bag.