There is some deeply uncomfortable, wholly uncharacteristic drama brewing in Nebraska, where a married state senator who masturbated with a lady on webcam and who was then extorted by that lady is refusing to resign. His colleagues would all really, really like him to resign, and are politely urging him to do so before they have to fire him. State Senator Bill Kintner's not sure, though, and boy, does he seem determined to drag this thing out.
Kintner is a Republican, married, very Christian, deeply anti-abortion, and made a previous appearance in Jezebel back in 2013 for a totally good joke about how women are baffling mysteries ("No one understands them. They don't even understand themselves.")
And now, as seems to happen with some regularity, he's embroiled in a sex scandal, having used his state-issued laptop to engage in cybersex with a woman he met online. ("Cybersex" is the term that is used in all of these media reports, and its musty, dated quality really adds a ridiculous frisson to these proceedings.)
The details are quite sad, in a very stupid way: the Lincoln Journal-Star reports that Kintner met a woman on Facebook, who eventually persuaded him that it would be fun for them to masturbate on Skype together. Kintner was at a conference in Boston at the time, using his work computer.
"I just can't do this," he told her, the paper reports. "It would break my wife's heart if she knew I did this." Seven hours later, he did it.
G/O Media may get a commission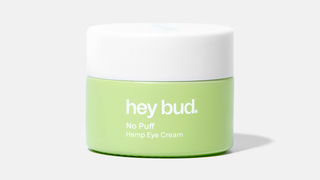 15% off
Hey Bud - No Puff Hemp Eye Cream
Almost immediately, the woman let him know what time it was:
[W]ithin minutes, she threatens to post the video on YouTube and share it with his Facebook friends if he doesn't wire $4,500 to an account in the Ivory Coast, which she claimed was for a deaf child.

Kintner reported himself to the State Patrol that day, telling investigators he'd fallen victim to a scam.

"I knew as a follower of Christ I needed to take quick and decisive action, and I did," Kintner said in a statement.
Kintner has been married for seven years; his wife Lauren was diagnosed with cancer not long after he came back from Boston.
State investigators traced the scammer to a "crime syndicate" in the Ivory Coast that uses Russian computers. The Nebraska Accountability and Disclosure Commission was deeply unimpressed with Kintner's creative use of his state computer, fining him $1,000 for misuse of government property. Now, the state Legislature's Executive Board is urging him to resign by Friday. They've actually been urging Kintner to resign all month, as has Governor Pete Ricketts, who said he learned of the allegations last year. Kintner's wife Lauren works in Ricketts' policy research office and has held jobs in state lawmaking for years, so you can imagine the governor is fairly serious about this one.
Nonetheless, Kintner has declined to say just yet whether he'll step down, despite everyone in the state telling him to step down. He told the Omaha World Herald he and his wife were discussing the situation: "We'll try to come up with what we think is the right thing to do."
Kintner could face sanctions or outright expulsion if he declines to resign. Meanwhile, a coalition of conservative groups is protesting the proceedings against him as a "politically motivated witch hunt" designed to remove, they say, "an obstacle to growing government."