A disturbing new report says 41% of trans people in the US have attempted suicide. One possible contributing factor: the incredible discrimination they face at work, at school, and even in the hospital.
The report, titled "Injustice at Every Turn" and compiled by the National Center for Transgender Equality and the National Gay and Lesbian Task Force, surveyed 6,450 trans people around the country. Researchers found not just a suicide rate that's 26 times the average for Americans (which is 1.6%) but also high rates of discrimination — 47% reported being fired, not hired, or not promoted because of their gender identity, 29% reported mistreatment by police, and of those who identified as trans in grades K-12, 78% reported harassment at school. And an alarming number said they'd been denied medical care — Nancy Goldstein of The American Prospect offers this chilling example:
In 1995, D.C. resident Tyra Hunter died from entirely treatable injuries incurred in a car accident. First, the firefighters who arrived at the scene stopped emergency medical treatment once they cut away her clothes to discover male genitalia. (One witness reported hearing a firefighter say, "This bitch ain't no girl. ... It's a nigger, he got a dick.") Once they stopped joking around and got her to the emergency room, the doctor refused to treat her. She died there of blunt force trauma and medical negligence. Fifteen years after Hunter's death, the survey's numbers still stink: 19 percent of respondents reported being refused care because of their gender identity or expression, with even higher figures for respondents of color. Nearly 3 percent reported being attacked in emergency rooms.
The firefighter's use of a racial slur isn't an isolated incident, either — according to the report, trans people of color suffer the worst discrimination, "with African American transgender respondents faring far worse than all others in most areas examined." In all, the report paints a picture of bias so widespread it could easily affect mental health — as a result of job discrimination, many trans people face deep economic insecurity (1 in 5 have been homeless at some point), and may be unable to get health insurance. And even good insurance won't help if providers refuse to treat them. Goldstein writes, "transgender people often suffer harm from the very systems designed to protect most citizens" — with frightening frequency, people whose job it is to care for them instead abuse them. Given this environment, it's not surprising that such a large percentage of trans people have felt, at some point in their lives, that they have nowhere to turn.
What could make the situation better? Survey respondents say solutions start at work — 70% said their top political priority was protecting trans people from job discrimination. Sadly, federal legislation to help do this has stalled, but hopefully "Injustice at Every Turn" will send a clear message to policymakers everywhere: trans people are at risk, and their number one request is the freedom to make a living without fear.
G/O Media may get a commission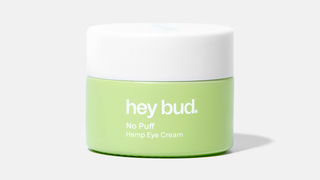 15% off
Hey Bud - No Puff Hemp Eye Cream
Counting The Transgender Community [American Prospect]
Report: 'Staggering' Rate Of Attempted Suicides By Transgenders Highlights Injustices [ABA Journal]