During a recent Television Critics Association panel, a reporter asked NBC executives why it took so long for them to ax Bill Cosby's in-the-works sitcom when so many women had come forward with sexual assault allegations against him. The answer, coming from entertainment chairman Robert Greenblatt, was that, while NBC knew of some allegations, they didn't know about all of the allegations. In other words, they'd heard that Cosby had raped a few people, but didn't think it was, like, that many.
Via Entertainment Weekly:
"Fifteen women came out and accused him of what they accused him of," entertainment chairman Robert Greenblatt told reporters Friday.
Rape. What they're accusing him of is rape. But please go on, Mr. Greenblatt:
"While over the years we heard some those accusations and knew there were a couple settlements and what not, it didn't seem to be the thing that was critical mass. When we realized there seemed to be so much more of it, it wasn't the something where we could go 'oh we're not sure.' He hasn't been proven guilty of anything. I don't want to be the one who says 'guilty until proven innocent.' But when that many people come out and have similar complaints it causes such a tainted situation there was no way we could move forward with it. The good news is, unlike Netflix which had a special to run, we're developing a script—we didn't even have a first draft … I'm glad we're out from under that."
G/O Media may get a commission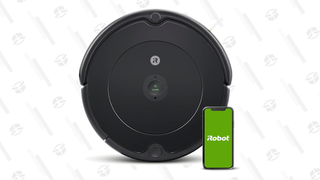 35% Off Black Friday Deal
iRobot Roomba 694 Robot Vacuum
The reporter seemed unwilling to congratulate Greenblatt on his close call:
"So 15 [women complaining] 'Yes,' two or three 'No'?"

"Yeah, you want me to put a number on it?" Greenblatt shot back, seeming irritated. "Fifteen 'yes,' two 'no.' Yeah, you want me to answer that question? All I can tell you is there's a lot of people who have been in business with Cosby for 25 years and go ask them the same question. I just answered what I could answer. I didn't think it was a problem until it became critical."
The people making your television, ladies and gentleman!
Now if we could please send this same reporter to go hammer Amazon with questions about their recent Woody Allen hire, that would be just perfect.
Image via Getty.