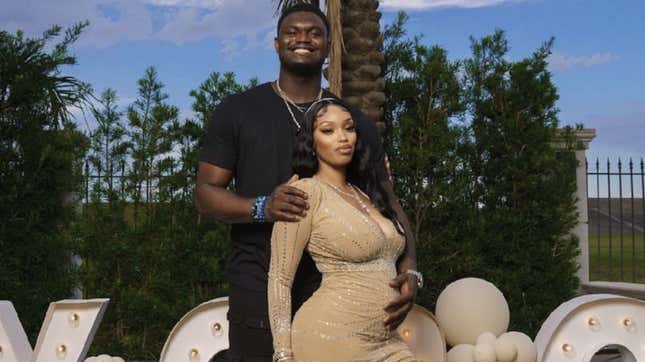 I've always had a soft spot for the New Orleans Pelicans' Zion Williamson, a seemingly shy, sweet 22-year-old who's often been the subject of online bullying about his weight and frequent injuries over the course of his nascent but explosive NBA career. I was genuinely delighted to see his celebration for his partner's pregnancy on Tuesday. So, you can imagine my shock when, on Wednesday, I saw Williamson's name trending on Twitter and dared to uncover why.

Shortly after Williamson's girlfriend, Instagram model Ahkeema, announced her pregnancy via splashy gender reveal party photos, a woman named Moriah Mills fired off dozens upon dozens of graphic tweets about her alleged sexual and romantic relationship with Williamson and expressed shock that he was seeing another woman. As even casual NBA followers know, the off-season sees the height of salacious rumors and online drama among players, but even still, the circus surrounding Williamson feels next level.
Mills claims Williamson bought her a condo in New Orleans to be with him and suggested he might have impregnated her too: "Better pray I'm not pregnant too because I'm definitely late," Mills wrote in one tweet. In another, she alludes to having intercourse with Williamson "so many times without [a] condom," and in another, taunts him for not being able to impregnate her: "Couldn't even impregnate a real pornstar 🤢🤢."
Mills' tweets also include numerous, sordid references to their alleged sex life, including letting Williamson "spit in my mouth last week," among, err, other things.
Some of the screenshots Mills shared which allegedly depict her texts with Williamson imply the two shared a paid sexual relationship, as Williamson appears to ask her how much she expects him to pay her per month. Whatever the nature of their relationship, Mills has made it clear that she didn't realize he was seeing anyone else.
Some of her tweets suggest she's confident their relationship isn't over, despite Williamson's impending child with another woman. Tagging Ahkeema in a tweet, Mills refers to herself and Williamson's girlfriend as "sister wives" and adds, "I'm his princess you a burnt out baby mom." In another tweet, she claims she'll be Williamson's baby's "step mommy" and calls herself Williamson's "kept girlfriend." Mills also fired off a series of derogatory tweets about Ahkeema, disparaging her for being "29" (which is apparently old) and already having a child, then blaming Ahkeema for Williamson supposedly gaining weight. In contrast, she takes credit, herself, for "motivating" Williamson to "get back in shape."
Alas, with this level of social media pot-stirring, it seems the NBA (almost) off-season is in full-swing, as players with a bit too much time on their hands are predictably getting into Situations™. This, of course, is hardly the first league sex scandal: In 2020, one woman set the internet ablaze by claiming she singlehandedly hooked up with half the Phoenix Suns roster. In 2018, a trans model went into detail about her alleged sexual relationship with then-NBA player Dwight Howard. Even before the Instagram era, in 2010, former Spurs superstar and noted Frenchman Tony Parker famously cheated on his then-wife Eva Longoria with his teammate's wife.
NBA players winding up at the center of bonkers sex scandals is not exactly surprising for me, especially as a lifelong fan of one particular player whose jersey is retired in a strip club in Houston. I didn't exactly predict that this level of drama would ever engulf Williamson, who last year bashfully declined to tell a reporter his favorite Thanksgiving dish to avoid arming his cyber bullies with new material. But alas, here we are—whatever else happens, I truly wish Williamson's unborn child all the best!