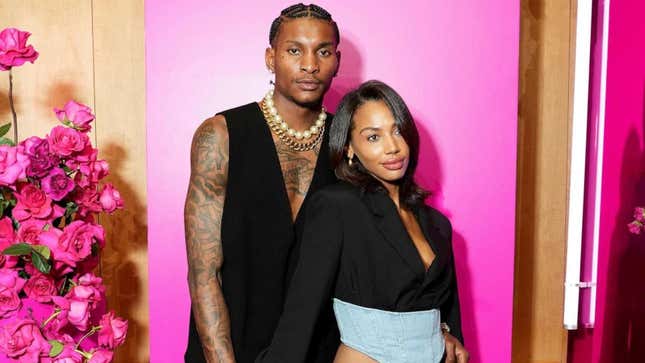 Houston Rockets guard Kevin Porter Jr. was arrested Monday on charges of second-degree assault and strangulation for an incident involving his girlfriend, WNBA star Kysre Gondrezick, while the two were in New York City over the weekend. ABC reports that Porter (whose full name is Bryan Kevin Porter Jr.) is currently in custody, while, per NBC, Gondrezick was hospitalized "with at least one broken bone and bruising" as a result of the altercation. The New York Post reports that Gondrezick also sustained a cut to her face and that police say she was suffering from neck pain.
Blue Ivy, Like All Human Beings, Has Aged and Thrown Me Into A Crisis
According to NBC, early Monday morning, Porter returned to the couple's shared hotel room after a night out to find the door was locked. Hotel security let Porter in, and immediately after, Porter allegedly beat and attempted to strangle Gondrezick while she was asleep, resulting in the former Indiana Fever and Chicago Sky player's hospitalization. Shortly after the alleged violent confrontation, hotel security and then police were called, leading to Porter's arrest.
While Porter was in police custody on Monday afternoon, the Rockets and NBA both said in statements that they are "in the process of gathering more information" and offered no further details about disciplinary action against Porter. This comes after the league recently faced criticism over the lack of action taken against Charlotte Hornets star Miles Bridges, who last year pleaded no contest to felony domestic violence charges for assaulting the mother of his child. Bridges was technically suspended for just 10 games and is rejoining the Hornets this season.
Porter was previously suspended for one game by the Rockets in 2022 for an alleged "meltdown" after a loss. He was also arrested on gun and marijuana charges in 2020, though the charges were later dropped.

Already, the truly foul parts of social media and NBA Twitter have placed blame on Gondrezick for allegedly locking Porter out of the room, while making the incident that left her hospitalized into a meme or expressing disappointment with how the allegations against Porter will affect his career, rather than their impact on Gondrezick. Through the nasty victim-blaming, Gondrezick's sister appears to have shared a since-deleted Instagram story addressing Porter directly: "Count ya fucking days," she wrote, adding, "you may have gotten away with this shit in the past" but that he won't get away with his actions against Gondrezick.
Reports of Gondrezick's injuries are especially concerning as strangulation is regarded by domestic violence experts as a significant predictor that the violence will escalate to homicide or attempted homicide. In the coming weeks, it will be important to watch for action taken by the NBA and see whether the league has learned from past criticism of its treatment of players accused of abuse.