The families of Navajo Code Talkers, the World War II veterans whose code breaking skills helped the US win the war, are predictably pissed off that White House squatter Donald Trump used a racial slur targeting Native Americans, in a ceremony honoring Native Americans.
"You were here long before any of us were here, although we have a representative in Congress who, they say, was here a long time ago. They call her 'Pocahontas,'" Trump said during Monday's event, going very far out of his way to note that his favorite nickname for Massachusetts Sen. Elizabeth Warren invokes a Native American historical figure. Trump claims his reference to Pocahontas, the Powhatan woman from the 1600s, stems from Warren's unsubstantiated claim that has Cherokee and Delaware Indian heritage—which really doesn't make the nickname any less racist, at all.
Several of the war veterans's family members criticized Trump's comments to the AP:
"It was uncalled for," said Marty Thompson, whose great-uncle was a Navajo Code Talker. "He can say what he wants when he's out doing his presidential business among his people, but when it comes to honoring veterans or any kind of people, he needs to grow up and quit saying things like that."
They were, however, remarkably restrained in their criticisms:
Michael Nez, whose father helped develop the code based on the Navajo language, said his father would have been upset to hear Trump's Pocahontas comment. But, as other Code Talker relatives said, his father was taught to respect the president as the commander in chief.

"It's too bad he does put his foot in his mouth," Nez said. "Why he does it? I don't know."

Helena Begaii said her 94-year-old Navajo Code Talker father, Samuel T. Holiday, declined an invitation to the White House on Monday. She said he would have a better feel for what happened once he reads the newspaper.

"I feel really sad that they didn't get treated with respect," she said.
Politicians were a little more blunt: Sen. Tom Udall (D-NM), vice chairman of the Indian Affairs committee, said, "Donald Trump's latest racist joke—during Native American Heritage Month, no less—demeaned the contributions that the Code Talkers and countless other Native American patriots and citizens have made to our great country." Arizona Sen. John McCain tweeted, "Our nation owes a debt of gratitude to the Navajo Code Talkers, whose bravery, skill & tenacity helped secure our decisive victory over tyranny & oppression during WWII. Politicizing these genuine American heroes is an insult to their sacrifice."
G/O Media may get a commission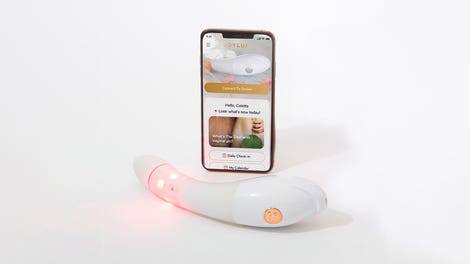 $50 Off
Joylux vFit Gold Device
At a press conference on Monday, ABC News White House correspondent Johnathan Karl asked White House press secretary Sarah Huckabee Sanders, "Why did he feel the need to say something that is offensive to many people while honoring the Navajo Code Talkers, these genuine American heroes?" Sanders defended Trump, saying,"I think what most people find offensive is Sen. Warren lying about her heritage to advance her career."
Meanwhile, one of Trump's sons is "staggered" by the fact that an ABC reporter would ask such a question at all: