The day after he was sworn in as president, Donald Trump called up acting National Park Service director Michael Reynolds to ask him to provide photographic evidence that the crowds at the inauguration ceremony had been as large—if not larger—than his predecessor's, despite reports to the contrary. On Friday, the National Park Service released dozens of previously unseen photographs of the 2017 inauguration ceremony, confirming what everyone—including the president, his insistence otherwise notwithstanding—already knew: that no one wanted to hang out with him that day.
Most of the photos were taken from the ground, but many were taken from elevated positions, showing the thin crowds gathered on the morning of Trump's inauguration. The Park Service released the photos in response to a number of Freedom of Information Act requests (including one from Gizmodo Media Group, which owns Jezebel), submitted in response to the White House's continued insistence that the audience that day was the "largest...to witness an inauguration, period."

On the first full day of his presidency, Trump himself, addressing the CIA, claimed crowds of 1.5 million—which, even if it were true, would not have been the largest audience for a swearing-in, as approximately 1.8 million people attended Barack Obama's first inauguration, in 2009. In fact, the Park Service released hundreds of photos of both President Obama's inauguration ceremonies in addition to those taken during this year's ceremony.
G/O Media may get a commission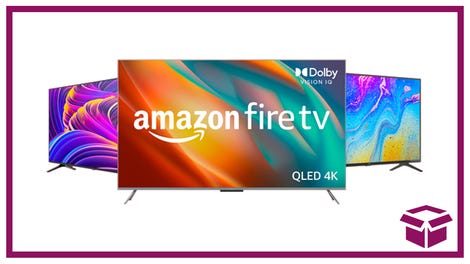 Ooh. stunning.
New Amazon Fire TVs
Calculating crowd size with precision is nearly impossible, although comparing crowds is somewhat more manageable. Here, for example, are several photographs of the National Mall taken shortly before and after noon on January 20, 2017:
And here is a photograph of the National Mall taken just before noon on January 21, 2009:
When the call between Trump and Reynolds was first reported in January, the Park Service declined to comment, but the White House confirmed that the call had taken place. The president is "not somebody who sits around and waits. He takes action and gets things done," deputy press secretary Sarah Huckabee Sanders told the Washington Post. "That's one of the reasons that he is president today, and Hillary Clinton isn't."

The Park Service has identified records responsive to Gizmodo Media's FOIA request about that phone call, but has not yet processed the materials. Also, additional photos taken by the US Park Police on Inauguration Day are being processed and will be released shortly.