Because obviously the best way to address the tragedy of Natasha Richardson's death is to ascribe it to a ghoulish, dubious "Redgrave Curse." Why settle for quiet dignity when there are conspiracy theories?!
Not letting any grass grow under their feet, less than a day after her death, the Telegraph has reduced Natasha Richardson's death to part of a "family curse" that haunts her prominent clan. This is it: "A series of marriage failures and controversies have beset the family, including Richardson's divorce from her first husband and the revelation that both her father and grandfather were bisexual." And, oh yeah, Liam Neeson once "cheated death" in a motorcycle crash. In other words, she comes from a family. Which is in the public eye.
Beyond the general ghoulish poor taste of casting Richardson's death in such a light — can't we just mourn her on her own terms? — it does seem inaccurate; surely any "curse" worth its salt needs to include at least three tragic and premature deaths and a series of inexplicable happenings. What the Telegraph is describing is no more and no less than the natural ebb and flow of a large, strong-willed family in the public eye — and by those standards, is pretty tame.
However, the very suggestion is an irony of its own. If there is a "curse" to families like these, it's probably the public — and media's — unwillingness to separate one part from the whole. Richardson said that she moved to the States to escape the pressures and expectations of family, and as Obit magazine points out in a thoughtful essay, she succeeded in defining herself independently.
The fact that she made a place for herself in a world that had been dominated by her parents, actress Vanessa Redgrave and director Tony Richardson, her grandfather Michael Redgrave and her aunt Lynn Redgrave was only her most visible achievement. She arrived professionally in a post-modern retrospective age - one in which all the great stories were thought to have been told - that was also rife with celebrity deification.
G/O Media may get a commission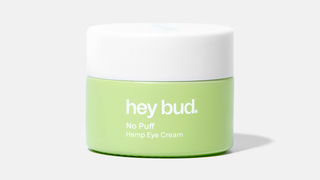 15% off
Hey Bud - No Puff Hemp Eye Cream
Richardson did something very difficult: forged her own distinct career and identity and by all accounts lived a life well and happily, no mean achievement. Her death is sad not because she's a Redgrave, but because she was a talented performer in her prime who leaves behind two young sons and a grieving family. For the Telegraph to strip her death not only of its unique sadness, but her life of its hard-won independence, seems unfair. But the lure of a "dynasty" is too potent for the media to ignore. And that, at the end of the day, is a real Curse of the Redgraves.

Natasha Richardson's death adds to speculation of 'curse' on Redgrave dynasty [Telegraph]
Improvising Her Best Role [Obit]