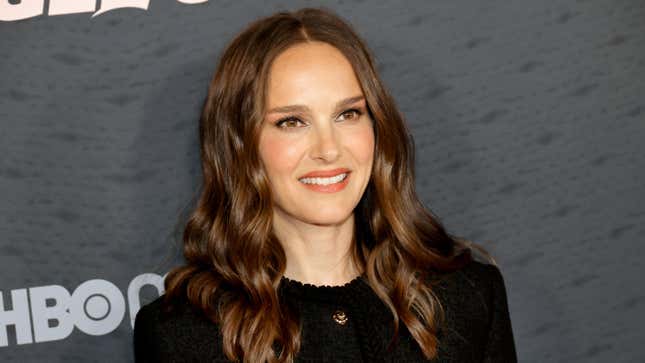 Having *existed* in the film industry for some time, Natalie Portman has been relatively open about the gross, inappropriate sexualization she's faced since her break-out role at age 13 in Léon: The Professional in 1993. And in a new interview with The Hollywood Reporter published Wednesday, Portman opened up again on her memories of working on the movie—including the rape allegations that have since come out against her then-director, Luc Besson, in 2018.

Jennifer Hudson Achieves EGOT Status, is True American Idol
"It's devastating," Portman said of learning the allegations. She recounted having no knowledge of Besson's predatory behavior when they worked together in the 1990s: "I really didn't know. I was a kid working. I was a kid. But I don't want to say anything that would invalidate anyone's experience."
Over the course of 2018, six different women accused Besson of assault and harassment, including a former assistant who said she had been "blackmailed" and pressured into a sexual relationship with Besson. The Hollywood Reporter wrote at the time that Besson typically asked for meetings with prospective actresses in hotel rooms, and the outlet also claimed to have a video of Besson facilitating a hotel room casting of a 16-year-old girl in 2003.
Looking back on Léon: The Professional, which follows a young Portman as she's mentored by a hitman in her apartment building, Portman says, is "complicated for me."
"It's a movie that's still beloved, and people come up to me about it more than almost anything I've ever made, and it gave me my career, but it is definitely, when you watch it now, it definitely has some cringey, to say the least, aspects to it," she said.
Portman has previously been vocal about experiencing sexual harassment from the public and adult fans at age 13, just after the movie released. Specifically, she recounted in 2018 that shortly after starring in the movie, her local radio station began a countdown to her 18th birthday. "I understood very quickly, even as a 13-year-old, that if I were to express myself sexually I would feel unsafe and that men would feel entitled to discuss and objectify my body to my great discomfort," she said at the Women's March in Los Angeles in 2018.
In the same Tuesday interview with the Hollywood Reporter, Portman also addressed the 2021 downfall of the Time's Up Legal Defense Fund, an initiative she helped launch in 2018. The organization disbanded in the summer of 2021 after members of its leadership supported former New York Gov. Andrew Cuomo amid sexual harassment allegations he faced. "It was really, really heartbreaking that Time's Up dissipated the way it did. I think a lot of people made mistakes, but mistakes are deadly for activism," Portmant told THR. "You have to be so perfect in order to demand the change that you want to see, and I don't know, maybe acknowledging all our imperfection as humans and saying that people can do something wrong and also be good at something else."
Roughly five years since #MeToo's entry into the mainstream, Portman certainly has a lot of reflections to offer in terms of lived experiences with sexual harassment, her previous work with a man who was eventually accused of abuse, and the messiness surrounding aspects of her #MeToo activism in recent years.
"Having a little bit more shades of gray might actually let us get to more progress," she said.