Forget all the rumors you've heard about Natalie Morales packing up her New Jersey home and leaving NBC's Today for a job at Access Hollywood on the other side of the country because she and Matt Lauer had an affair that went south, ultimately leading to Lauer not wanting to work with her anymore. Yes ma'am, throw those rumors in the nearest ditch, because everything between the two soon-to-be ex-coworkers is just peachy.
Page Six has provided statements from both Morales and Lauer that will surely put all those rumors to rest for good.
Said Morales:
"There is absolutely no truth to this completely absurd story. It is damaging, hurtful and extremely sexist. I have proven myself in all aspects of my job as a news professional and journalist, and am adding to my role, taking on three jobs with Access Hollywood Live and Access Hollywood, in addition to Today. This move was dictated by me and my desire to grow in my career. Any insinuations beyond that are uninformed."
Said Lauer:
"Every aspect of this story is untrue, and it's frankly sad that someone would tell lies to harm everyone involved."
G/O Media may get a commission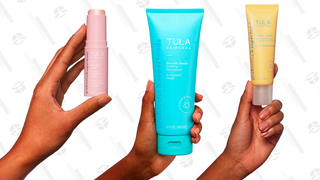 As is usually the case, everyone's fine.
[Page Six]
---
Just one day after The Cut published a scathing essay asserting that TMZ "can't stop defending bad celebrity men," TMZ wrote a story about Taylor Swift and Calvin Harris that's definitely on Team Tay. It turns out, they claim, Swift co-wrote Harris and Rihanna's current hit "This Is What You Came For" under a pseudonym.

When first promoting the track, Calvin shot down any suggestions he would ever collaborate with Swift, and his refusal to show her any respect reportedly sent her over the edge. "It was a quick downward spiral from that point," writes TMZ.
They continue:
BTW ... Taylor has the right to prohibit Calvin from performing the song, but she hasn't and doesn't plan to exercise that right. Ironically, Calvin once wrote a song with then-GF Rita Ora and when they broke up he yanked her right to perform it.

As for why the squad is talking now ... we're told they're sick of Calvin trashing Taylor and feel he should be thanking her for quietly giving him a smash hit.
It's a shame that I still hate the song!
[TMZ]
---
I feel you, JoJo.

[People]
---
---
Images via Getty, screengrab, Giphy.