Two tipsters tell Jezebel that fashion retailer Nasty Gal has laid off between 15 and 20 people, including the entire design team, which creates the Nasty Gal Collection, the company's line of clothing and shoes. Nasty Gal was founded by self-proclaimed #girlboss Sophia Amoruso. She's currently promoting Nasty Galaxy, a new book celebrating "the Nasty Gal brand, Sophia's own personal brand, and ​Girlbosses everywhere."
Jezebel has previously reported on the tension between the stated values and public image of Nasty Gal—empowered women uplifting each other and running a hip, thriving company—and the apparently miserable work environment there, according to former employees. In private arbitration proceedings, the company settled a lawsuit brought by former employees who said they'd been laid off for getting pregnant. Another employee, Farah Saberi, alleged in court filings that she'd been laid off while suffering from a serious kidney disease and that the company let her promised insurance coverage lapse, leading to a medical emergency. That was also settled in confidential arbitration.
Amoruso stepped down as CEO in January of 2015 and was replaced by Sheree Waterson, formerly of Lululemon, who several former employees have told Jezebel is, in their opinion, the cause of much of the dysfunction and tension at the office. Amoruso remains the company's executive chair.
This latest round of reported layoffs comes weeks after Women's Wear Daily reported that Nasty Gal is "aggressively looking for capital", i.e. trying to raise more money, and possibly looking for a buyer. In the meantime, the company is becoming increasingly pared down, our latest tipster said; the loss of the entire Nasty Gal Collection staff suggests that it is being discontinued, and bolsters the suggestion that the company is looking for a buyer. A new owner would have their own in-house design and production teams.
"They're just stripping everything away," the tipster said. Much of the clothing not produced by Nasty Gal in-house is bought from San Pedro Wholesale Mart, one person with knowledge of the company tells us, a wholesaler that also sells to stores like Forever 21 and carries mainly brands made in China.
G/O Media may get a commission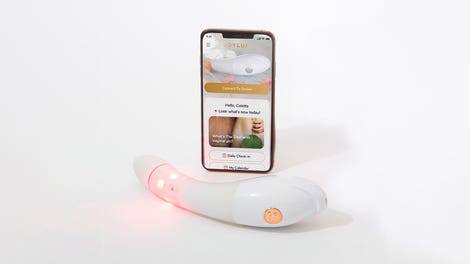 $50 Off
Joylux vFit Gold Device
At the same time, Amoruso is making the rounds to promote Nasty Galaxy, which New York magazine likens to a "fancy Instagram mood board," some sort of how-to guide coffee table book that mixes life tips and interviews with other media moguls. She also has a podcast and an upcoming Netflix series based on her life, all of it predicated on the "girlboss" brand and ideal.
In a breathless WWD profile, Amoruso said, of the rumored search for a buyer for the company: "The sale was speculated. I'm not sure where that came from. It's nothing we've reported or confirmed."
We're told that several people laid off—senior employees with two or three years at the company—received two weeks' severance.
We've emailed Nasty Gal for comment and, as ever, will update if they one day respond.